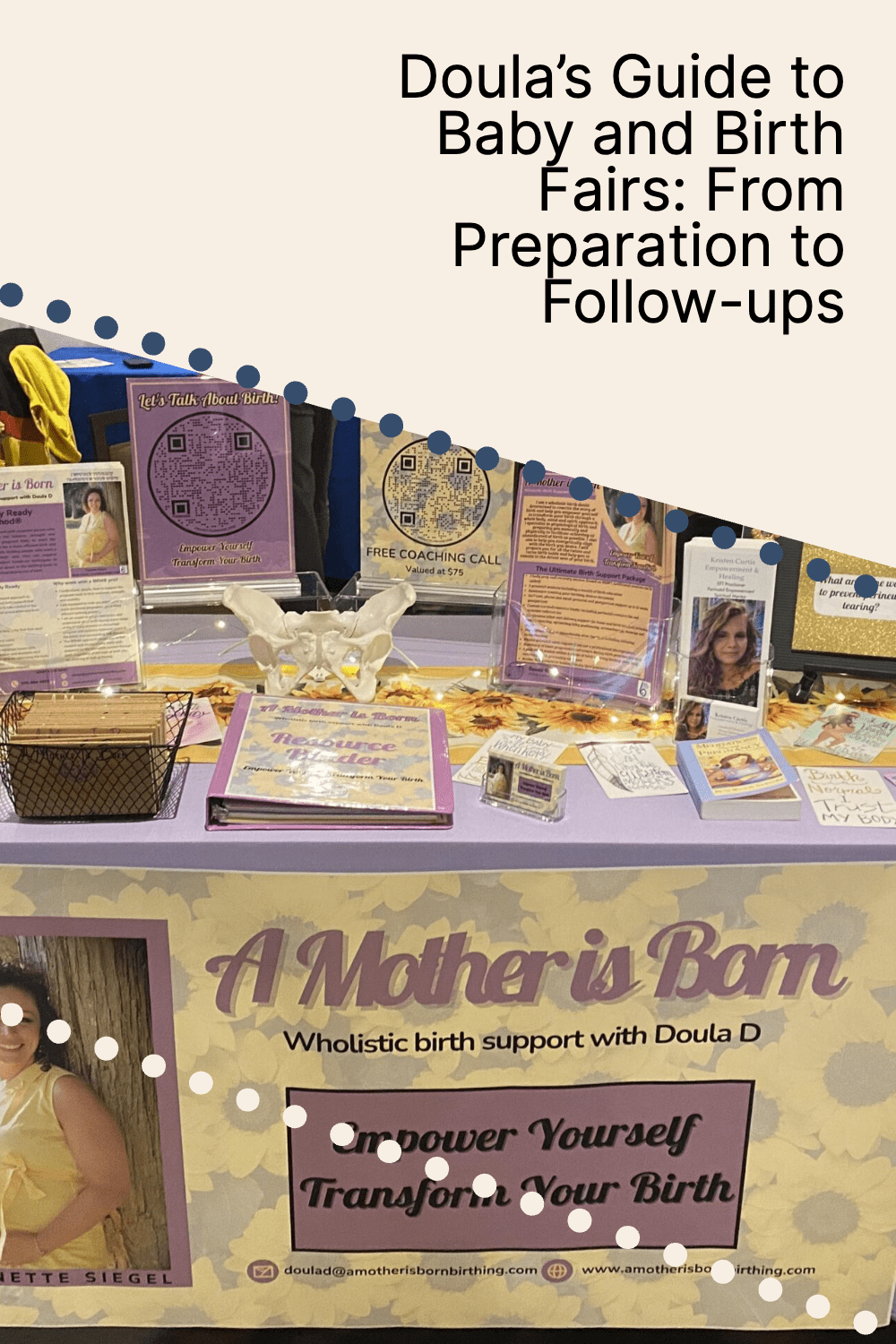 One of the most rewarding aspects of our profession is the opportunity to engage with expectant individuals, families, and other birthing professionals, learning from them and sharing our passion. Baby and birth fairs are unique platforms for such interactions, providing us with the chance to network, reach potential clients, and increase our visibility within our communities. With proper planning and execution, these events can significantly boost our practice and enrich our understanding of birthing trends. I've attended many of these fairs throughout my career and would like to share some insights on how to make the most of these opportunities.
Preparation
Your preparation for a baby fair should start with some research on the event.
Who are the attendees?
Who is the host?
What are their expectations of you?
Is there a fee?
What is included in the registration?
What will you need to provide? (Table, chair, etc.)
Will there be electricity?
Any restrictions on what you can bring or do?
Will you be required to provide a door prize? Raffle item? Speaker?
Will there be other doulas present?
Can you collect information from the attendees who stop at your booth?
This knowledge will inform your presentation, the design of your booth, and how you engage with the attendees.
Presentation and Booth Setup
First impressions matter. Your booth should be welcoming, clean, and professional. A banner or sign with your name, title (Doula), and services offered should be clearly visible. Make sure your marketing materials, like brochures or business cards, are neatly arranged and easily accessible. You might consider the use of QR codes to make it faster for potential clients.
I always like to have something larger and visible to draw attention. A peanut ball has been my go-to the last few years at baby fairs. It really draws people over so you can start a conversation. A pelvis can also work well.
Your personal presentation is equally important. Dress professionally but comfortably – remember, you'll likely be on your feet for a good portion of the day. Be warm, approachable, and genuine in your interactions, keeping in mind that these fairs can be overwhelming for expectant individuals and their support systems. Your calm and reassuring presence can set you apart.
Engagement
Engaging with attendees is a delicate art. Remember, this is their day. Listen to their needs, answer their questions, and provide information about your services when asked. Avoid hard-selling your services. Instead, build rapport and trust, offering support and guidance. This approach will leave a lasting impression, more so than any sales pitch. You're going to use your elevator speech a lot.
Networking with other professionals is another key aspect of these fairs. They could be potential sources of referrals, and their insights can be invaluable. Maintain a collaborative, rather than competitive, approach. Sometimes the networking I do is the most profitable part of the day.
Follow-ups and Converting Leads
One crucial step in preparing for a baby and birth fair is to ensure that you have access to the attendee list. This information is often provided by event organizers and can be invaluable for follow-ups. When you sign up for the fair, make it a point to ask for the attendee list. While privacy policies may prevent the disclosure of personal contact information, you may still be able to get an idea of who will be attending, such as expectant individuals or other birth professionals.
During the event, remember to collect contact information from attendees who show an interest in your services. This can be done through a simple sign-up sheet or digital registration form at your booth. Be sure to explain why you're collecting their information and how you plan to use it, ensuring that they are comfortable providing it. Be sure to add them, with permission, to your marketing list for newsletters.
In the days following the event, reach out to these potential clients. A friendly email or call can go a long way in establishing rapport and trust. Thank them for their interest in your services, offer further support or information, and remind them of your conversation at the fair.
Understanding Needs and Trends
Lastly, remember that these fairs are a goldmine of information about the needs and trends within the birthing community. Pay close attention to the questions asked, the concerns voiced, and the services most sought after. This information can help you adjust and improve your practice, making your services more relevant and valuable.
In conclusion, baby and birth fairs offer a unique opportunity to connect, learn, and grow. I encourage you all to make the most of these events and, in turn, contribute to our shared goal of supporting expectant individuals and families in the best way possible.
Share your experiences at these fairs and how they've shaped your practice. By sharing, we learn from each other and elevate our profession.
One Doula Shares Their Advice
Here's the advice of Danette Siegel, Birth Doula, Certified Body Ready Method Pro®:
My advice is just jump in head first. I saw this opportunity come across my plate months ago and I had imposter syndrome. My ego started telling me, I can't do that, I'm not ready, I'm not big enough blahblahblah. Then a friend (literally 1 week ago) was telling me how she got invited to do a workshop there and suggested I get a table because they still had some. I thought, well if I'm getting this message twice, I must need to do it. My energy was just in a whole other place now.
So I signed up. I did not have anything for it one week ago, no branding, no business cards, no flyers, no freebies, no shirt, no banner, I didn't even know how to use canva! I reached out to share my success of signing up with a few friends and they immediately offered me help.
The hard part I think for some is accepting help but again I am coming from a different energetic place right now where I am accepting what comes to me. So I accepted help. My one friend taught me canva and helped me get started on creating, my other friend just had gotten a cricket and offered to help, and my other dear friend offered to be there to support me. If all these people believed enough in me to help me well then I better had believed in myself to make it happen.
I spent many very late nights busting my a$$ after kids went to bed, canceled appointments etc to make the time to get it done. I spent hours on website and making all my branding consistent all without spending a bunch of money. This catapulted me and my brand. I think I was so overwhelmed with everything I had to do in my business that I hadn't done any of these things yet. Now I don't think that it is required to do business but I do think that now its done, it will help.
I only took my training 1 year ago and I am booked with clients, charging a wage that feel is closer to what I deserve, and feeling so great about what I'm doing. I think the key is to stop comparing yourself to other doulas and just create the package or provide the services that feel good to you, even if no one is doing it that way. There are clients out there for everyone at every price point. I just keep putting my truth out and showing up as my authentic self, take it or leave it. I'm not sure if that's what you were looking for but I thought I should share a piece of my story. As for the fair, just keep showing up as you and let your passion come through, accept help, and believe in yourself as much as others believe in you, even if you have to fake it until you make it.
> > > Share Your Experience with Baby Fairs < < <