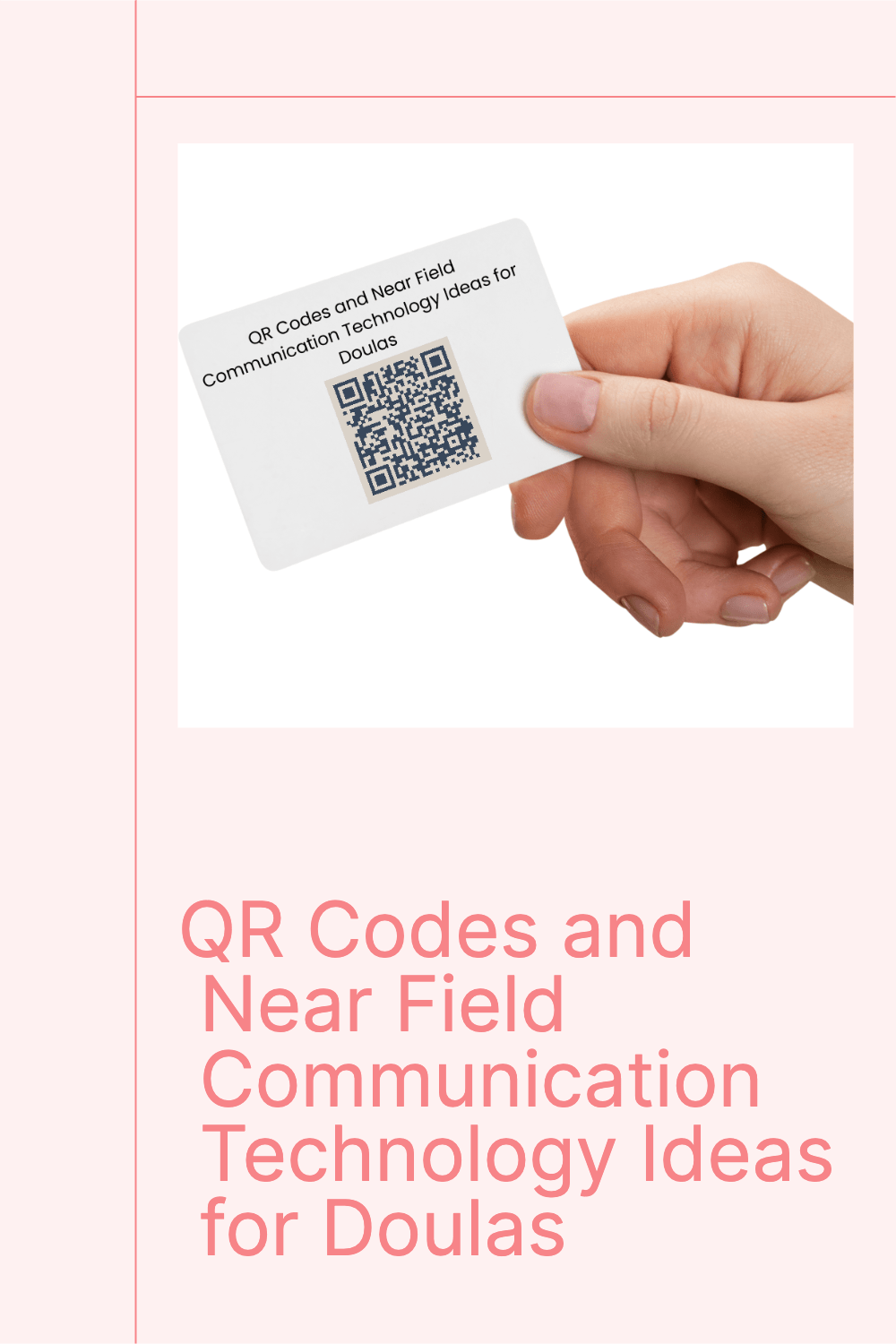 Innovative Takes on Business Cards for Doulas
You may have heard that I'm a big fan of business cards. I still believe that our traditional business card is very important in the doula business world. Just imagine when an obstetrician or midwife looks at you after a birth and says, "That was amazing! Can I have some business cards to share with my patients?" I think there are many other uses as well but I've talked about those in other places. Today I wanted to focus a little bit on talking about some of the new ways that you can share information about your doula business.
There are multiple digital options that range from free to pricey. I'm going to talk about a couple of different types of digital business cards, including those using near field communication (NFC).
QR Codes
QR stands for quick response and is that funky barcode-looking image you see on so many things these days. Simply open your phone's camera and hold it over the image and your phone will let you open a link attached to the QR code.
QR codes can have a lot of things attached to them – from business card link information to digital brochures, websites, or videos. These tend to be quick and easy ways to provide information. It's also really easy to get QR codes and there are multiple ways to do it. You can even have multiple QR codes designed for different audiences or create one for a special event.
Imagine you go to a baby fair and want to offer a free handout or lead magnet to people who stop by your table. You could have a QR code printed on business cards, displayed at the table, or offered via NFC technology that leads to your lead magnet. Some technologies would even be able to collect data from that person so that you could follow up later. Maybe you're speaking at an event about VBAC – your QR code for the event might lead to a page on your website or a Linktree or Sleek Bio-type site that has a listing of your favorite VBAC resources on it. Maybe it's just a QR code you send to a client who just found out that their baby is breech to share information that is pertinent. (See how it could save you time to just keep one page updated?)
"I love to use QR codes in my business because it allows potential clients immediate access to the information you want to present to them. Business cards definitely have their place, but with a business card, you rely on the client to visit your website or your social profile and end up at the right place. With QR codes, the guesswork is eliminated and your information can be easily saved for future reference, if not acted on immediately," explains Jordan Scott, a doula in Deleware.
This is more of a fancy digital business card. Though it is free. It allows you to have a photo and basic information. You can use a personal QR code, text, or email your information to others. It does offer a downloadable background for virtual events and you could pay more to track engagement and to personalize further.
While not a business card per se, it does offer a QR code that will take people directly to your listing to allow for service inquiries or leaving reviews. This QR code can be saved on your phone or printed on your regular business cards.
You can make a QR code in Canva, even with the free version. One of the benefits is that you can change the background and foreground colors to match your brand using this format.
Other Interesting Ways to Use QR Codes:
Consider adding it to your printed business cards.
Have it made into a sticker and place it on your phone case.
Place another sticker on the back of yoru doula name badge.
Print it on your handouts for baby fairs or recruiting events.
Print it on baby t-shirts or bibs to give to babies from your practice.
There are also physical objects like business cards with near field communication (NFC) capabilities that can tap and transfer information to another phone. This is the same technology that allows you to pay with your phone. It's safe and has been around since the early 1980s.
There are a lot of players in this market and each has its own spin on what they do and why they do it. Some offer simple business card like replacements that you just use over and over. Others also offer stickers with NFC, name badges, phone cases, and even bracelets that are capable of sending your information to nearby devices with intention.
Some. like Popl also offers a service that allows up to collect leads from those who choose to share. This would be a great way to get baby fair leads into your client management software or spreadsheets with less work. Services like Blinq offers a range of products, including NFC.
Things you want to consider when thinking about these business cards technologies:
Does it require that you have a physical card on you?
What is the cost for additional or replacement cards?
Are there other options other than cards? (e.g. key fobs, stickers, QR codes, Etc.)
Is there an ongoing cost to the use of the digital business card?
Can you alter the design of the physical card in cases where a card is present?
Does the user need anything special to receive your information?
Can you alter the information without altering the QR code or card?
Is there any customer resource management collection information?
Can you DIY?
Do you need any special Integrations with other platforms?
My advice would be to start with really simple DIY QR codes and work out the kinks in your system before investing in bigger technologies. Save it as your digital business card or put it in your digital wallet – it's a great, inexpensive way to meet the needs of your doula client or potential clients.