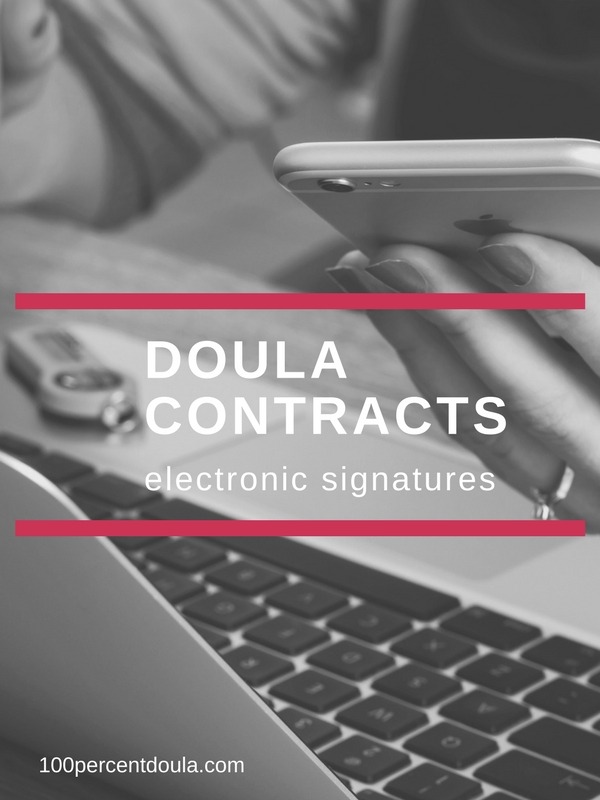 The purpose of a doula contract is to protect both the doula providing the service and the clients receiving the service.  The contract should explain what is expected of both parties and what should be agreed upon and signed by everyone involved. Traditionally contracts were printed out and the physical copy was signed.  That physical copy was then filed and saved by the doula and/or scanned and saved electronically.  In recent years, electronic contracts have gained in popularity with many programs designed to make this process very easy.
Are electronic signatures valid?
In 2000, the E-SIGN Act (https://www.fdic.gov/regulations/compliance/manual/10/X-3.1.pdf) was passed into a US federal law.  This law grants legal recognition to electronic signatures if all parties choose to use electronic signatures.  All parties involved must also have access to the final signed version of the documents and the electronic record should be maintained.
The E-SIGN Act act also requires a paper alternative to be available if all parties do  not agree to using electronic signatures.  For this reason, I suggest that you include a sentence in an email to you client or during in person communication that states "I can provide a paper version of the contract if you would prefer."
Review of Digital Signing Programs
There are dozens of programs that allow you to get your doula contracts signed.  We have selected three that seem the best fit for doula work.  These are SignNow, DocuSign and HelloSign.
Available as an Android and iPhone app
Price: App is free and it is free to create an account.  The free account allows you to create 5 free documents per month on the app.  If you need more than that you can upgrade to a paid account which is $6.99/month or $59.99/year.  This is an in app purchase (through iTunes or Google Play).  The paid plan allows for unlimited documents. If you want to only create on the desktop version you have to upgrade to the paid plan.
Ease of Use: Very easy to use.  I had my contract document in email and saved it right into the SignNow app.  Inside the app the process for creating a template is super easy.  You go through and add any initial, signature and date fields to your contract document using the very straightforward interface. This process took me about 1 minute to complete.  Once the template has been created, you can create a document to send to your clients.  This requires that you enter email addresses which you can quickly pull from your phone contacts (if you have stored them there).  The contract is sent via email you your clients and you are notified when they have signed the document.
Client experience: Ability to download the contract before and after signing it. Ability to decline to  sign, easily see where to sign or initial, dates entered automatically, can draw or type signature, does not require that the client has the app on their phone, can be opened easily
Other interesting features: Login with touch id, create a team so that you can view any team members documents.
Web interface, Android, iPhone and Windows mobile apps
Price: There is a 30 day free trial that does not require a credit card.  After the 30 days the least expensive plan is $10/month when paid for the entire year and 14.99/month if paying monthly.
Ease of use: You could login to DocuSign through Facebook, which was can make login very easy.  The app sser interface was similar to SignNow, but not quite as easy to use.  It was a little confusing as to add the fields for multiple signers (a client and a partner for example).  There was a phone notification that the contracts had been signed which some people might prefer over an email notification that the other programs had.
Client Experience: The client screen is a little misleading in that it at first it looks like the user must create an account with DocuSign in order to download the document, but there is a small download icon that could easily be overlooked.
Other interesting features: The company reports that in early 2017 they will integrate payments into there program.  If this works well it could be the go to choice.
Web Interface, Android and iPhone version
Price: 3 documents for free each month.  After that the smallest plan (pro plan) is $13/month when you pay annually.  The Pro Plan allows for unlimited documents per month.
Ease of use: Create an account or login with your Google account.  If you login through your Google account you can easily access your Google Drive an all documents stored there.  The desktop interface is very user friendly, but I found the app to be difficult to navigate.  If you don't need to create the documents on your phone, then this could be a great choice.
Client Experience: The client interface is very easy, but the process for the client to download a copy is a multi-step process.  They have to sign the document, wait for an email, click on a button to go to HelloSign and then from there download the document.
Getting Started with Electronic Signatures
As you can see, integrating electronic signature can be super easy when you use a tool that has been created for this process.  If you are ready to update your business in this way
Get a contract finalized for each service/package that you offer. If you offer a few levels of service make sure that you have one contract for each service.
Pick a Program, Upload Your Contract and Setup the Signature, Initial and Date fields.
Test! Send a contract to yourself (via a different email) or a friend and get them to test it out.
Determine where in your client lifecycle process you will send the contract. I like to send it for the client's review after the interview.