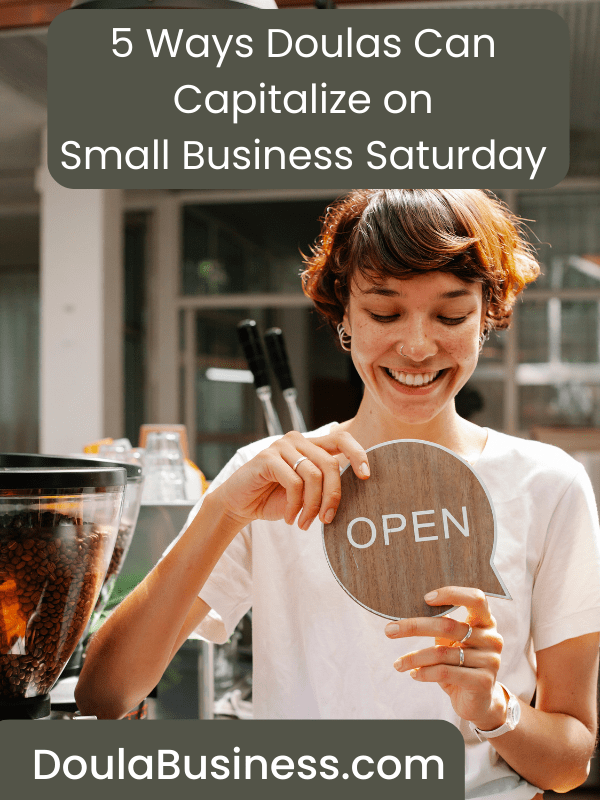 Small Business Saturday is a great opportunity for doula businesses to promote their services and connect with potential clients in the community. Held the Saturday after Thanksgiving each year, the day of Black Friday, Small Business Saturday is a day dedicated to supporting small, independently-owned businesses. As doulas, we provide important services to empower women during pregnancy and childbirth. This Small Business Saturday, here are some ideas for how you can maximize awareness of your doula business and generate new client leads.
Idea #1 – Create a unique coupon or offer
Offering a promotion is a great way to attract shoppers on Small Business Saturday. Consider creating a coupon for a discounted or free consultation, which can help showcase your services to new doula clients. You could offer a small discount on your full doula package or a percentage off additional birth or postpartum classes or services. Be creative – think about any extras you provide like pregnancy journals, packing/planning lists, or yoga classes that you could promote at a special price for the day. Share your coupon widely on social media before the date to drive people to your website or business.  
Idea #2 – Participate in a local Small Business Saturday event
Many towns and cities hold special Small Business Saturday events to encourage shopping locally. Look into any organized walks, health fairs, or open houses happening in your area on that Saturday. Participating gives you visibility amongst local businesses and shoppers. You could set up an information table to directly interact with potential doula clients or just include flyers about your birth and/or postpartum services at various merchant locations. Partnering with other parent-focused businesses like lactation consultants or baby boutiques allows you to cross-promote each other.
Idea #3 – Offer a meet-and-greet or open house
Hosting an open house event at your home office or a local venue is another great way to introduce yourself to the community. Consider offering light snacks and drinks while sharing more about the role of a doula and how you can support clients during pregnancy, labor, and postpartum. (You could also do it through a local coffee shop and see if they'd throw in some free or discounted drinks!) Allow time for Q&A so attendees understand the value you provide. Have informational handouts and a signup sheet for a free 15-minute phone consultation so they can learn more about your doula services. Offer small giveaways like fans or onesies with your business info and/or logo to thank people who attend. 
Idea #4 – Create engagement through social media
Social media is key for any small business on Small Business Saturday. Update your profiles with a featured post or slideshow highlighting what you offer and why customers choose you. Encourage followers to tag you in their own support for small businesses. On the day itself, go live on Instagram or Facebook while attending a local event or doing a meet-and-greet to give a behind-the-scenes look. Offer discounts to anyone who shares your posts to help expand your reach. Make sure contact details are prominently displayed so new clients can easily get in touch.
Idea #5 – Collaborate with other businesses
Consider partnering with complementary businesses like childbirth educators, lactation consultants, midwives/OBs, chiropractors, pelvic floor physical therapists, or baby stores for a cross-promotion. You could offer a joint gift basket or bundle of services from both businesses at a discounted Small Business Saturday price. Collaborate on social media by sharing each other's Small Business Saturday posts to extended combined audiences. See if a local magazine or parenting blog would feature your collaboration in an article to gain exposure. You could also look for local parenting /family blogs, newsletters, podcasts, etc. There are going to be many opportunities to work together! Working together supports the whole community of local family services.
Small Business Saturday provides a great opportunity for doula businesses to connect with prospective clients in new ways. With some creative promotions, informative events, or appealing social media presence, you can maximize awareness of the valuable support you offer to women. Promoting on this dedicated shopping day allows your services to reach a wider audience locally and helps sustain a thriving business to serve more families in the future. Get involved this Small Business Saturday and see your client base grow through community connections.
What are you going to try for this Small Business Saturday? Read ideas from other doulas!