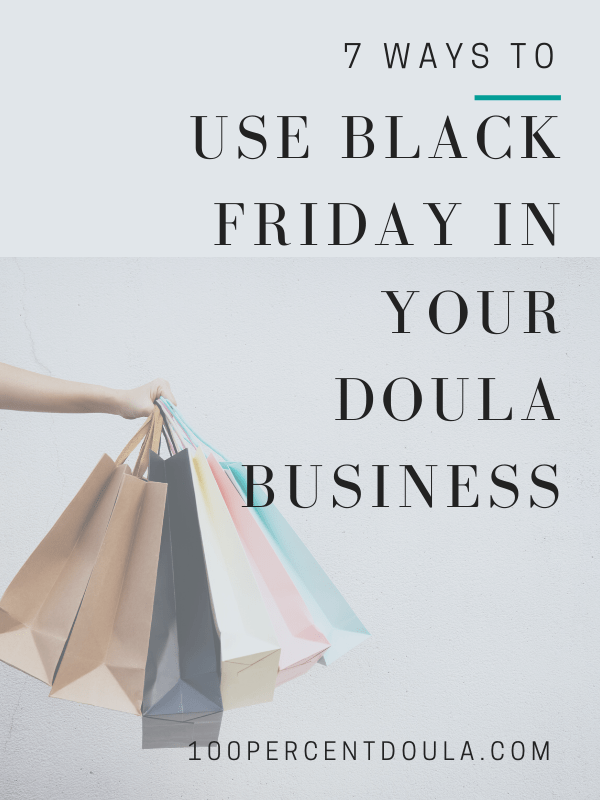 Towards the end of November, and sometimes into early December, you have three distinct sales time periods in the United States. Before we talk about how to use these in your doula business, let's talk about where they started and when.
The first is Black Friday, held the day after American Thanksgiving. Originally the term was used in 1869 to talk about a financial crisis and was later adopted by the police to talk about the crime madness that seemed to come after the Thanksgiving holiday, but in the 1980s it had started to catch on as an informal day of big sales promotions. Now it's something that seems like we've always used to refer to the shopping madness that kicks off the holiday gift-buying season.
Cyber Monday was coined in 2005 by the National Retail Federation (NRF). They had begun to notice that online shopping sales spiked the Monday after Thanksgiving. They assumed it was people buying online at work where the internet connections were faster and more reliable and perhaps to avoid their family members from catching a sneak peek of presents.
Small Business Saturday was created by American Express, yes, the credit card company, to supposedly celebrate the small businesses that were local to you. This started in 2010 and has taken off quite nicely for both consumers and small business owners. It's certainly a chance to talk and shop local. And what's more local than a doula?
So how can you leverage these?

Consider an online promotion. According to BlackFriday.com, 61% of people who intend to shop online over Black Friday will incorporate online spending, while 68% said that they will spend the majority of this online.
Find a local business fair held in recognition of Small Business Saturday and host a table to talk about what you do – if there isn't one, consider doing your own. Can you say baby fair?
Is there some portion of what you do online? Do you offer a course or an e-book? These are certainly easy thing to have a coupon for during a Cyber Monday promotion.
Consider going with another provider to provide a package deal. This is a great way to let your customers save some money and a chance for you and like-minded practitioners to share some clients. One local example is that a pregnancy massage therapist and an acupuncturist did a combo for an hour of services from each where you save $10 off each service for a total of $20 off. Last year it encouraged some who had used one service but not the other to branch out a bit. It was successful enough they are doing it again!
This is also a chance to announce that your prices are going up in the coming year. This is a way to let people know that they still have time to save money before your new fee takes effect.
Consider offering a giveaway item, for example, one of your favorite books for everyone who books your service during this time frame. You can buy the book in bulk to save money. This same strategy also works well with birth balls or other massage tools.
If you've added a new service or you will be adding a new service, a bundle might also make sense for your business. It can help attract new customers.
Use these tips as a jumping-off place. Think about how you can best meet the needs of your clients in a way that makes sense.
Want to see what we have planned for Black Friday? Follow us on Instagram!