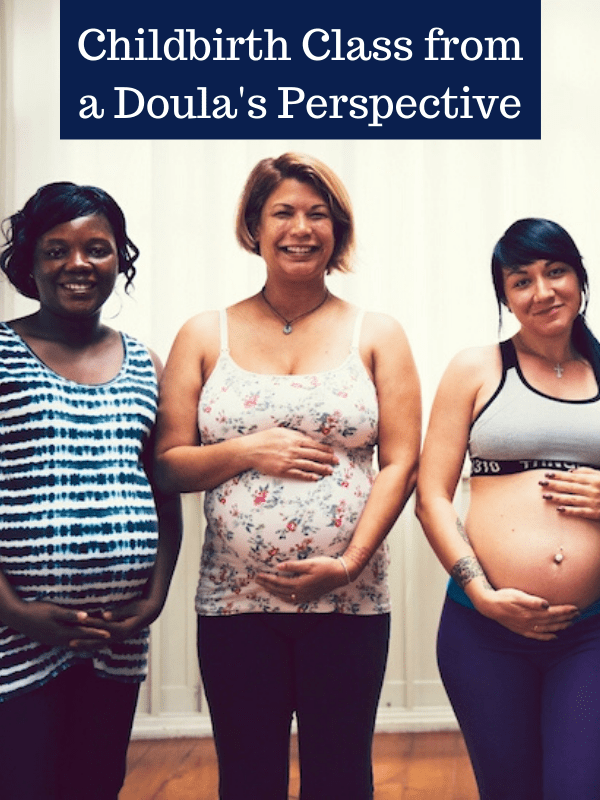 When conjuring up images of childbirth education people often think about very antiquated ideas. The past 20 years have seen an incredible change in childbirth education. You've seen it move from largely independent to being a mixture of independent educators and hospital-based educators. You've seen it go from a single format to multiple formats lasting from weeks to a single day, from a living room to a spa. There is no one way to think of childbirth education today.
I love the fact that you can take an 8-week course in someone's living room, a weekend at a spa or retreat center, a single day-long course in a hospital, or even do your childbirth education online or even a combination of these. The bottom line is that childbirth education is a crucial component of the maternal health landscape.
As a doula, I talk a lot about childbirth education. I support it and encourage it. In fact, if you sign my contract, you agree to go to childbirth classes, it's that important.
While some folks say that they think of it as a childbirth education or a doula, I'd encourage people to think about them as both important components. You wouldn't say that someone could opt for prenatal visits with the practitioner or the care they receive in labor, so why would you essentially cut out this critical component for birthing families.
As a doula, I need to be able to jump into what I need to do to support you. Ideally, you already know where your cervix is and what it does. In labor, if a procedure is suggested, I hope I can just prompt you with a few words and you can bring up the information you learned in your childbirth class to help you make a decision. While I can provide quick bits of information, it's nearly impossible to learn in labor in a way that would really help you make informed choices.
One issue is that some providers don't value childbirth education, even telling their clients not to worry about it, just skip the class, that they, the provider, will tell them what they need to know in the moment. Or perhaps families think that because there are so many books and videos available, that can take the place of a childbirth class, and while it is information, that's not all you get in a childbirth class. You get the opportunity to practice skills, work through scenarios and practice making decisions about your care for birth with other families going through the same thing. It's much more than simply reading a message board and watching Youtube clips. 
You also have a valuable resource in the childbirth educator. That's a great place to start as you're working out what your preferences are for your birth. They can help guide you to a wide variety of resources and help you formulate questions, as you're leaning the material. A childbirth educator stays neutral to help you figure out what the solutions are that work best for your family, much as a doula does, but in regards to information and education. They can help you formulate the right questions to ask your providers to ensure that you are getting the answers you need.
Childbirth education gives my clients a leg up when it comes to writing birth plans. It helps them approach birth with a positive attitude and confidence so that we can work on the specifics that are best for their situation. It allows us to take the time in the doula prenatal to discuss how they want it to go, rather than simply what all of the options are and how it might work out. I'm so thankful that childbirth education gives my clients the knowledge to be able to engage with me in this manner.
We know that people who have had childbirth education are:
More likely to have a vaginal birth
Less likely to agree to an elective delivery
Less likely to go be admitted to the hospital in early labor
Less likely to be fearful of the process
So you can see that when childbirth education is paired with a doula, you have a greater potential for positive outcomes.
100% Doula is honored to support the International Childbirth Education Week, January 25-31.
Bibliography
Ferguson, S., D. Davis, and J. Browne, Does antenatal education affect labour and birth? A structured review of the literature. Women and Birth, 2013. 26(1): p. e5-8.
Gluck, O., Pinchas‐Cohen, T., Hiaev, Z., Rubinstein, H., Bar, J. and Kovo, M. (2020), The impact of childbirth education classes on delivery outcome. Int J Gynecol Obstet. doi:10.1002/ijgo.13016
Miquelutti, M., J. Cecatti, and M. Makuch, Antenatal education and the birthing experience of Brazilian women: a qualitative study. BMC Pregnancy Childbirth, 2013. 13: p. 171.
Simpson, K., G. Newman, and O. Chirino, Patients' perspectives on the role of prepared childbirth education in decision making regarding elective labor induction. J Perinat Educ, 2010. 19(3): p. 21-32.