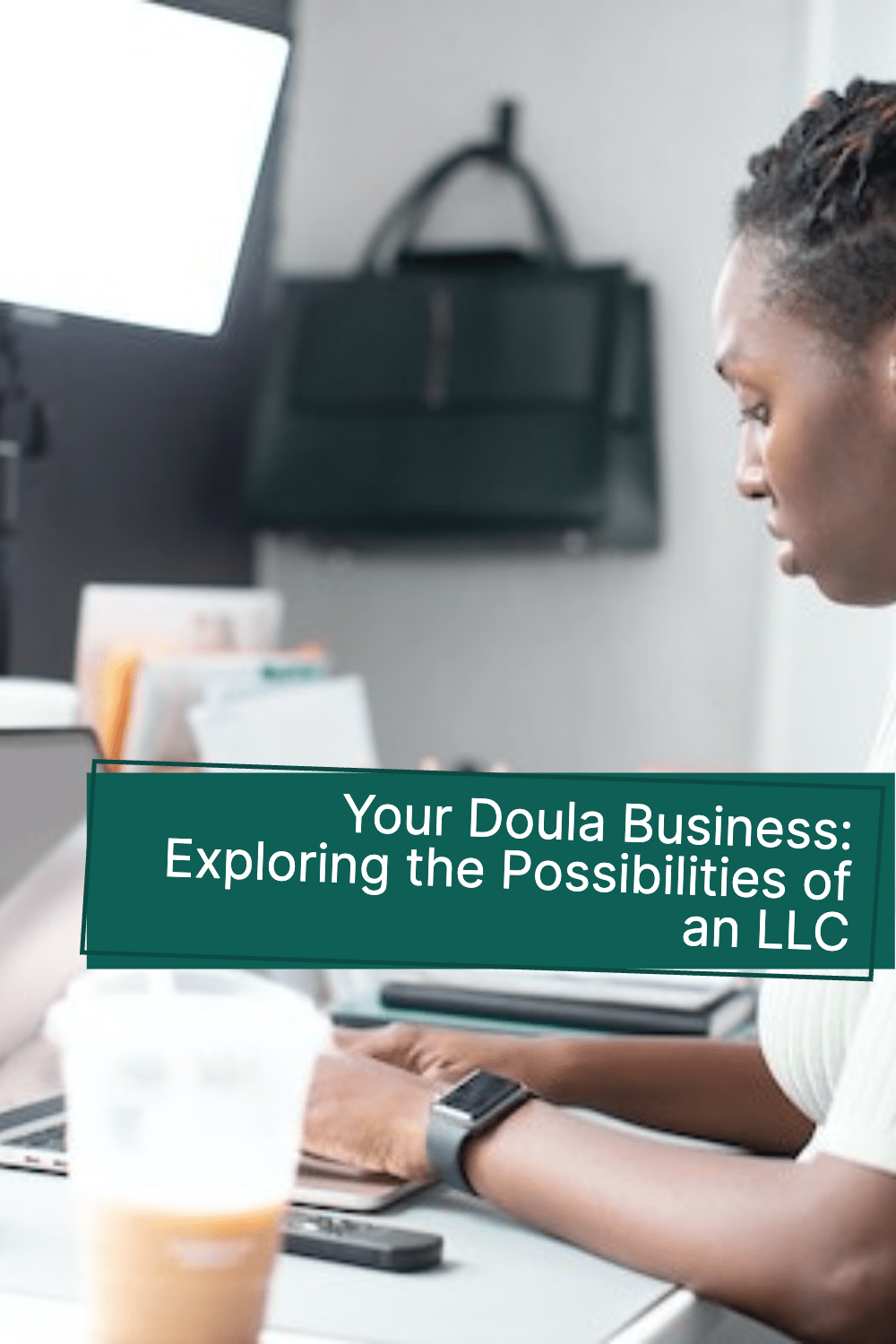 You have chosen an incredible path of supporting families during one of life's most profound journeys. And now, you might be contemplating the next step for your business—forming a Limited Liability Company (LLC). The thought of doing so can seem daunting, but don't worry! As an experienced doula business advisor, I am here to help demystify the process and provide general, non-legal advice on setting up an LLC.
First, let's explore the benefits of forming an LLC for your doula business.
Benefits of an LLC for your doula business
1. Limited Liability: As the name suggests, one of the most significant advantages of an LLC is the legal protection it offers. An LLC separates your business assets from your personal ones. This means that in the unfortunate event of legal disputes or business debts, your personal property—like your home or personal savings—won't be at risk unless specifically named in a suit.
2. Tax Flexibility: LLCs enjoy a level of tax flexibility. Typically, LLCs are taxed as "pass-through" entities where the business income or loss is reported on your personal tax return, which can lead to potential tax savings. However, tax laws are complex and vary widely, so always consult a tax advisor or an accountant for your specific situation.
3. Credibility: Having 'LLC' after your business name can add a level of professionalism and credibility. It signifies that you're a legally recognized business entity, which can help build trust with clients and partners.
4. Opportunities: There were times in my doula business when I was asked about having an LLC to reserve space for meetings or events. While it wasn't often a deal breaker, I was required to jump through hoops or provide other proof to use the space.
Let's shift gears to some general advice for those considering starting an LLC.
General Advice on Starting an LLC
1. Do Your Research: Every state has different regulations, filing fees, and annual costs for maintaining an LLC. So, start by researching the specific requirements for LLCs in your state. Websites for your Secretary of State or similar government entities are good starting points.
2. Create an Operating Agreement: This document outlines the ownership and operating procedures of the LLC. While not always legally required, it's highly recommended to have one to ensure all members are on the same page about the business' structure and operations.
3. Choose a Unique Name: Your LLC's name must be distinct from other LLCs in your state. Check your state's LLC database to ensure your desired name is available. Remember, your business name is part of your brand, so choose wisely!
4. Get Advice from Professionals: Score is an organization that can provide you with free business mentors and advice. They also have trainings available live and in person. This could be one way to get state-specific resources. They also have a blog post with other questions about the LLC decision.
5. Watch Out for Scams: There are scams out there that will, for a fee, start your LLC for you. Ensure you are on the Secretary of State's website when registering.
As exciting as starting an LLC can be, there might be reasons to postpone establishing one.
When to Postpone Establishing an LLC
1. Initial Costs and Ongoing Expenses: Forming an LLC comes with initial filing fees and ongoing costs like annual report fees. If you're just starting your doula business and operating on a tight budget, these costs might be a deterrent.
2. Paperwork and Formalities: Managing an LLC involves a certain level of bureaucracy. Depending on your state, you may need to file annual reports and other formal documents. If you're not ready for this commitment, it might be best to wait.
3. Unsure Business Future: If you're still exploring your options and unsure if your doula business is a long-term commitment, forming an LLC may be premature. You might want to establish your client base and ensure the business is viable before taking this step.
Remember, forming an LLC is an important decision, and while I've shared some business advice here, I'm not a lawyer. It's essential to consult with a legal professional who can provide advice tailored to your specific circumstances.
Establishing an LLC for your doula business can offer many benefits, but it's not a decision to take lightly. Consider your business's needs, your comfort with administrative responsibilities, and your long-term plans. Also, it's crucial to consider the costs and state-specific regulations involved in establishing and maintaining an LLC.
Regardless of your path for your doula business, remember that you're doing amazing work by providing invaluable support to families during transformative times in their lives. This journey of yours requires not only your nurturing and empathetic heart but also your savvy and smart business mind. Continue educating yourself, asking questions, and seeking advice when needed.
As you move forward, whether you establish an LLC now, or later, or choose a different business structure altogether, keep shining in your role as a Doula, creating a positive impact on the lives of those you serve.
Best of luck with your business journey. Your commitment to your work is the foundation of your success!
What have you decided to do? Do you still have questions? Comments? Join us in the community!
Please note: While this post provides some business considerations, it doesn't replace legal counsel. For advice specific to your situation, it's best to consult with a legal professional. Also, remember that costs and regulations vary by state, so be sure to research your own state's specifics thoroughly.