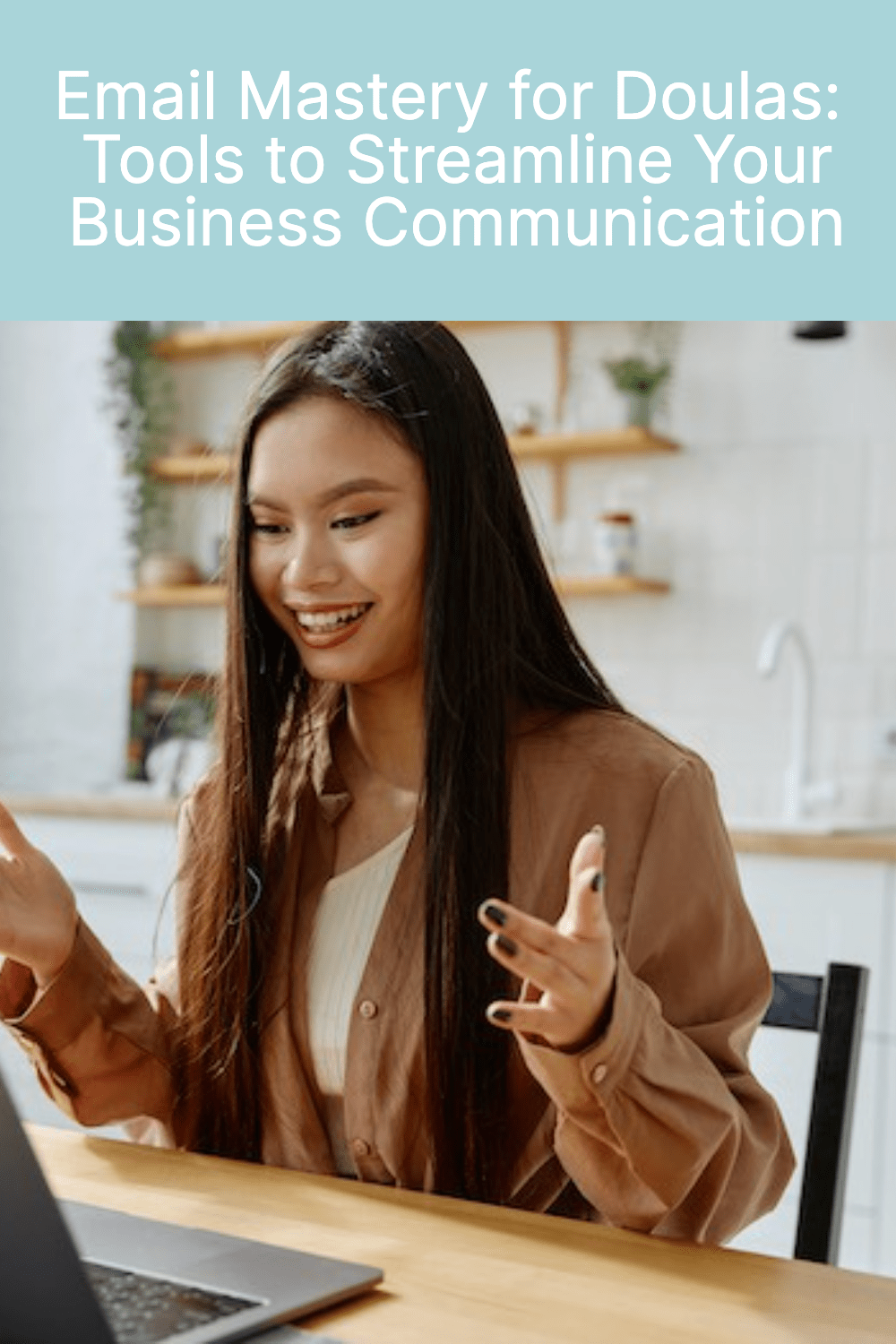 In the modern era of digital communication, effective email management is essential for every profession, including the rewarding field of doula work. As a doula, you may juggle many responsibilities, from communicating with clients and healthcare professionals to managing your business operations. Streamlining these tasks becomes vital for your doula practice's efficiency and success. This blog post delves into a range of email tools and practices that can help you optimize your email communications, save valuable time, enhance your professional image, and, ultimately, contribute to the growth of your doula business. Let's figure out how to make your email work smarter for you!
Email Service Providers: The Foundation of Your Communication
Running a successful doula business requires a reliable email service. Gmail, Outlook, and Zoho Mail are excellent options, each offering various features. Gmail is popular for its user-friendly interface and Google ecosystem integration. Outlook, by Microsoft, is ideal for those who frequently use Office Suite applications. Lastly, Zoho Mail is designed for business operations, featuring an ad-free interface and advanced search options. A few of these are even free. Be sure to find one that has a good phone interface or app so that you can handle email on the go or from your car.
Enhance Your Efficiency with Email Scheduling Tools
Scheduling tools like Scheduled Send (free with Gmail), Boomerang, Mixmax, and Right Inbox help streamline your email communication. These tools allow you to draft emails and schedule them to be sent later. This ensures you always communicate promptly, even with clients in different time zones or during your off-hours, without disrupting your work-life balance.
Time-Saving Consistency: The Power of Email Templates
The use of email templates can significantly save time and maintain message consistency. Gmail's free Template feature, Streak, and QuickMail allow you to create templates for common emails. This allows you to respond swiftly to inquiries, provide standardized information, and communicate your services effectively without repeating the same work. Some common templates might be:
Initial contact email
Scheduling an interview
Scheduling a prenatal/postpartum meeting
Common issues may arise (GBS+, breech baby, induction, etc.)
Keep Your Inbox Organized: Email Filtering and Categorization
An organized inbox equals a peaceful mind. Email filtering and categorization tools like SaneBox and Clean Email can help. They filter out unimportant emails, categorize your messages, and help prioritize your tasks. With these tools, you can ensure your important client emails never get lost in the shuffle and you don't get bogged down with spam.
Enhance Your Business Image with Email Signature Generators
A professional email signature can significantly enhance your business image. Signature generators like WiseStamp and Newoldstamp let you create personalized signatures, including your name, title, contact information, and even your logo or photo. These signatures help reinforce your branding, make emails more personal, and facilitate easy contact for your clients. Even if you don't use a fancy signature or a paid service, don't overlook this space as a way to communicate with your doula clients and potential clients. Consider adding your website and/or social links there.
Time and Cost Efficiency: How Email Tools Contribute to Your Doula Business Success
Investing in these email tools and resources not only streamlines your workflow but also leads to significant time and cost savings for your doula business. By using email service providers that align with your needs, scheduling tools to automate your communications, and email templates for consistent messaging, you cut down the time spent on repetitive tasks. The time saved can be better invested in client care, training, or even self-care.
Moreover, a tidy, organized inbox resulting from efficient filtering and categorization helps you prioritize and respond to essential messages promptly, ensuring you never miss out on potential business opportunities. Adding a professional email signature enhances your brand image without the need for expensive branding exercises.
In essence, by embracing these tools, you can run your business more efficiently and cost-effectively. This optimized approach not only saves you time and money in the short term but also contributes to the sustainability and growth of your business in the long run, setting you up for continued success in your doula career.
These email tools and practices can transform your email communication, streamline your workflow, and present a more professional image, leading to improved client relationships and the growth of your doula business. Whether you're a newbie or a seasoned doula, it's never too late to enhance your communication skills!