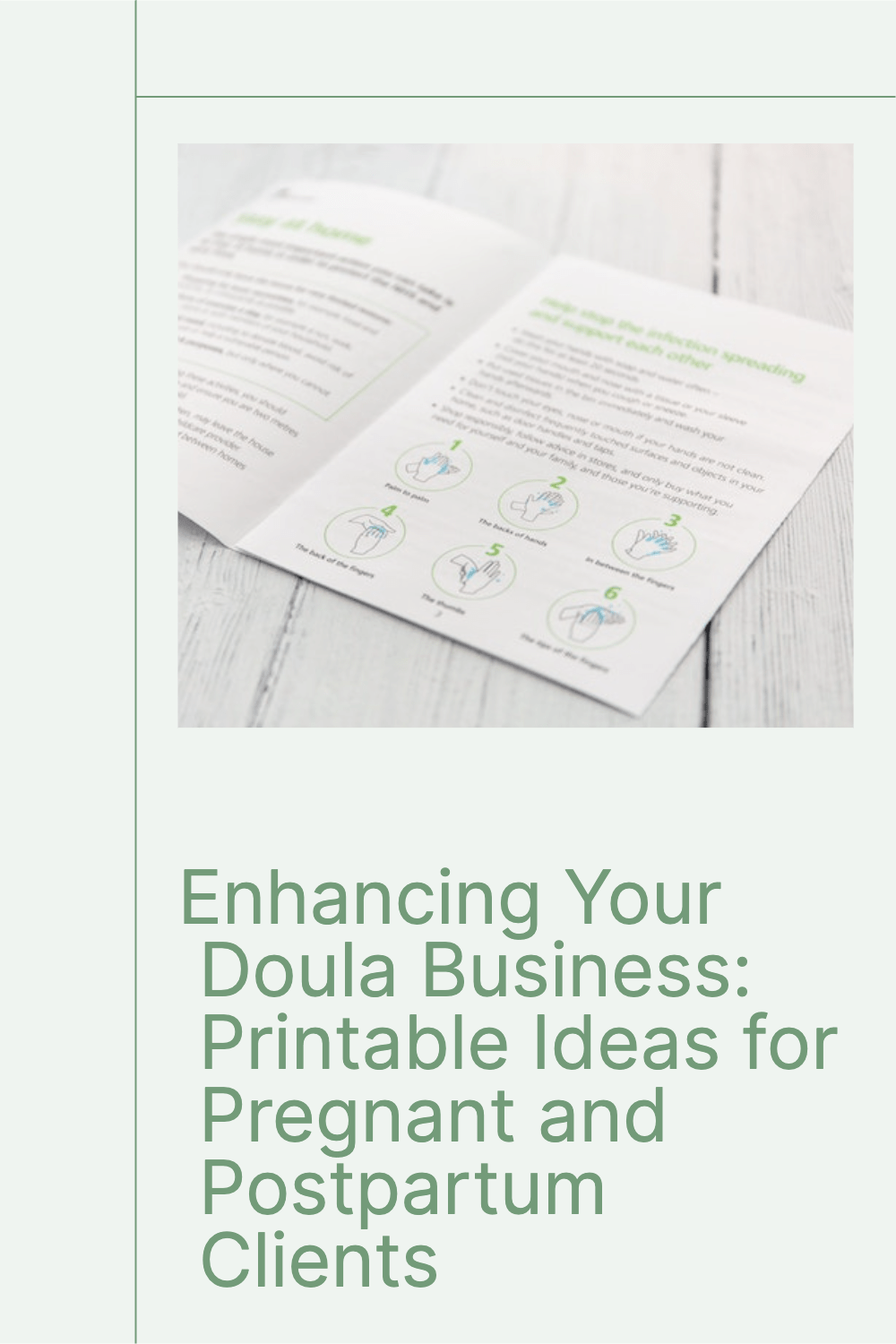 As a doula, you're not just a professional birth companion; you're a guiding light and an indispensable source of support for families navigating the beautiful yet challenging journey of childbirth. Your role transcends merely being there for the birthing process. It extends into education, comfort, and fostering a positive, nurturing environment for both the mother and the family.
One innovative way to enhance your support and provide an extra layer of personalization to your services is through the use of printables. But what exactly are these, and how can they add value to your doula business? This blog post will explore the potential of printables specially designed for pregnant and postpartum clients. We will delve into a variety of printable ideas and discuss how to implement them effectively to strengthen your client relationships and perhaps earn a little money on the side.
The Value of Personalized Printables in Doula Services
In today's digital age, the allure of something tangible, like a beautifully designed printable, is unique and surprisingly powerful. Personalized printables offer a blend of utility and sentimentality, serving both as a helpful tool and a keepsake for your clients.
Firstly, these printables can act as informational resources. They can be used to break down complex processes or timelines, provide useful tips, track progress, or offer inspiration. Clients can refer to them throughout their pregnancy journey and in the postpartum period, which reinforces your role as their continuous source of guidance and support.
Secondly, personalized printables can become cherished memorabilia. With thoughtful design and meaningful content, these printables can remind your clients of their transformative journey into parenthood and your role in it. They serve as physical manifestations of their experiences and the care you've provided, often preserved long after the child is born.
Moreover, from a business perspective, these printables can set your services apart. They not only demonstrate your dedication and personal approach but also create opportunities for branding and marketing your services. A uniquely designed, valuable printable might be shared among your client's network, creating a ripple effect of awareness about your doula services.
You can also use printables as a side hustle for earning a little extra cash by selling them to clients, other pregnant families, or even other birth professionals for use with their clients.
Doula Victoria Wilson of Mother Well Doulas used this idea to create a printable in the form of a client manual. She now sells the same form she uses for her personal clients to other doulas.
I have some affirmation cards I use, though I use them as a freebie.
To harness the potential of personalized printables, you must craft them to resonate with your specific client's needs and experiences. Here are a variety of topics that doulas could make printables on, separated into categories for both pregnant and postpartum clients:
Printable Ideas for Pregnant Clients:
1. Pregnancy Milestones Tracker: A visual timeline showing key milestones during pregnancy and what to expect.
2. Prenatal Visit Checklist: A checklist with key questions and considerations for expectant parents to bring to prenatal midwife or doctor's visits.
3. Birth Plan Template: A customizable birth plan template that accommodates various preferences and scenarios.
4. Pregnancy Nutrition Guide: An overview of nutritious foods and meal ideas for each trimester.
5. Baby Bump Weekly Photo Frame: A beautiful printable frame for weekly baby bump pictures, celebrating the growth.
6. Pregnancy Yoga Poses: A guide to safe yoga poses and exercises that can help during pregnancy.
7. Pregnancy Journal Pages: Printable journal pages to document thoughts, feelings, and experiences during pregnancy.
8. Baby Name Brainstorming Sheet: A fun worksheet for jotting down potential baby names.
9. Baby Shower Registry Cheat Sheet: A list of items that you recommend people add to their baby shower registry.
10. Hospital/Birth Center Tour Checklist: Questions to ask as you tour birth facilities.
Printable Ideas for Postpartum Clients:
1. Postpartum Recovery Guide: A list of tips and advice for physical and emotional recovery after childbirth.
2. Newborn Care Tips: Basic newborn care information, including tips on feeding, diapering, bathing, and sleep schedules.
3. Baby's First Year Milestones Chart: A chart to track the baby's growth and development milestones during the first year.
4. Lactation Log: A chart to keep track of feeding times, duration, and other notes.
5. Postpartum Meal Planner: A printable meal planner focused on nutrient-rich foods beneficial for postpartum recovery.
6. Baby Sleep Log: A chart to monitor baby's sleep patterns.
7. Self-Care Checklist for New Parents: A reminder for new moms to take care of their physical and mental health amidst caring for a newborn.
8. Postpartum Exercise Guide: A collection of gentle exercises to support postpartum healing and wellness.
Remember, the key to creating effective printables is to make them visually appealing, easy to understand, and highly relevant to your clients' needs. You can use free tools like Canva.com to make them and either sell them locally already printed or through sites like Etsy.com or your website.
I'd love to hear what you're doing with printables or freebies. Here is a sample template on Canva that I use.