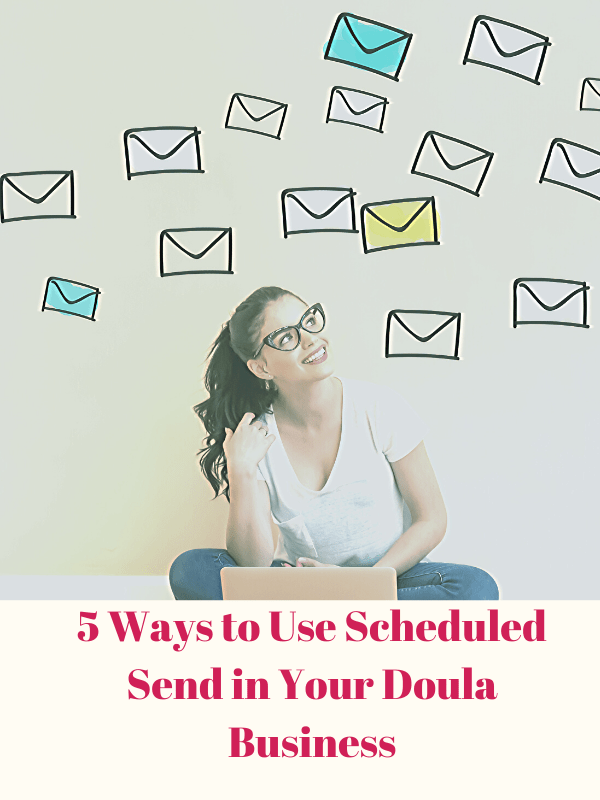 Scheduled send and similar types of programs that allow you to put items in your email inbox back in your inbox at a specific time are great time and sanity savers. I'd like to show you some ways that they are beneficial in your business. (You can watch a quick video on how to use scheduled send in the 100% Doula Business Group.)
Here are the top five ways that I use scheduled send for my doula business.
1. Keeping Track of Certification/Recertification
If you are working towards certification or recertification, it can have a lot of deadlines and dates. Use scheduled send to remind you of these upcoming deadlines. For example, if I have to remember to write down resources for a resource list to turn in for my certification, I might want to do this monthly to remember to get it done. For recertification, I usually use it for reminders that it's coming up. I put the dates in immediately upon receiving the recertification notice. It's usually years away. I'll put it in at dates like 1 year out and then every three months for 9 months out, 6 months and 3 months out. Then monthly for 2 and 1 months out. Then, if I'm not done, weekly.
2. Potential Client Contact Management
When someone contacts me, I'll answer immediately and then use scheduled send to remind me in a week to write them again if we haven't interacted since then. I'll say something like, "Hi! I just wanted to make sure that you got your questions answered or found a doula. Please reach out if you need anything else."
3. Current Client Contact Management
Once someone has hired you, particularly if they have a due date that is far away. I send myself reminders to reach out. At first monthly, then every other week, then weekly starting at about week 36. This mimics their typical prenatal schedule. I find this particularly useful when it's early in their pregnancy. (I do this in addition to my regularly scheduled newsletter.) Another example is that I send clients topics of interest at specific times. I schedule these as soon as they are hired. (They can be deleted easily if needed, say in the case of a preterm birth.) For example, I might send a copy of the mucous plug video from Alice Turner's Birth A-Z course from Supporting Her around 37 weeks. I've noticed a dramatic drop in questions when employing these types of educational reminders. And I don't have to remember to do it weekly.
4. Goal Planning
Writing goals down is an important part of being able to see that they get done. The better thing is to actually remember to do them. This means that you need to frequently be reminded and kept on track. I love that scheduled send is a great way to help me remember my goals. I do this in a couple of ways. The first way is that I have my overall goals sent to my inbox once a month – never on the first because that's a day so many other reminders come in. So I'd advise you to pick a random date. The second is that I actually have the individual steps sent to me as I should be doing them. So for example, if I have a goal that has four tasks that will each take a week to do, I'll get week one emailed during week one, and week two during week two. (I do include the whole goal and each step in the body of the email just to give me a quick glance if I need it.) Sometimes it's a poke to get it done, and sometimes it's a reminder of what I could do to work ahead if I'm already done. This makes sure I'm seeing the goals much more frequently than if they were just in my calendar. 
5. Simple Reminders for Day-to-Day
I also use this day-to-day help with email management. Sometimes I'm trying to work and get through my inbox and a ton of mail I eventually need to deal with is in my inbox and it's distracting me. I can use scheduled send's cousin Snooze to hide it from my inbox for a length of time I determine. It's a great way to help me focus on the task at hand and not be distracted.
So that's how I use Scheduled Send. The learning curve is small and it's a handy tool. You should also note that you don't need to fill out the whole email – you can do subject lines only.
I'd love to hear how you're using Scheduled Send and Snooze in your doula business. Jump in the community to watch the video and let me know how it's going for you.