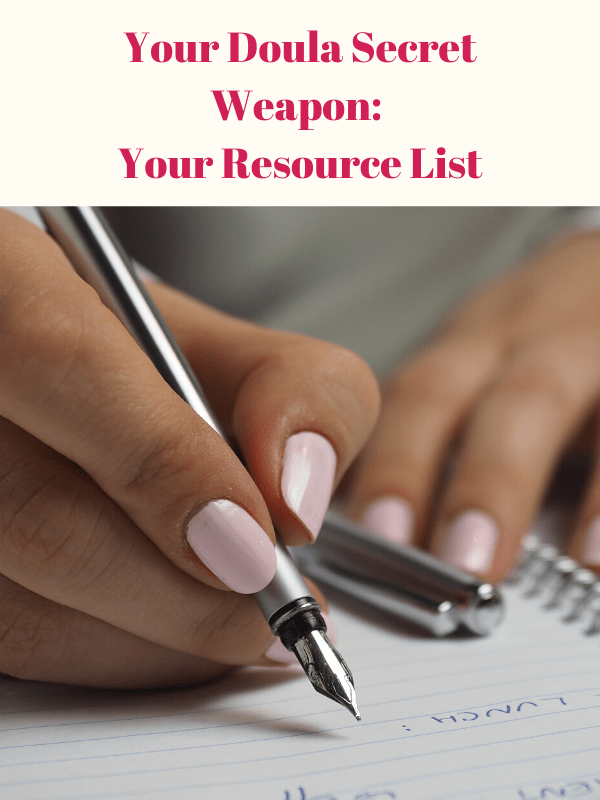 One of the things that you probably haven't been using wisely enough is the doula resource list. In fact, this is your secret weapon.
In short, a doula resource list is going to be a collection of categories of specialties and subspecialties that might be of help to families in your business. Here are some examples: 
postpartum depression
midwives
lactation consultants
childbirth educators
Obstetricians
parents of multiples group
prenatal yoga
many others
Within each category, you will have a listing of people or places that fit that bill. Imagine that under Childbirth Educators you have a few each of educators from Lamaze, Bradley, ICEA, Hypnobirthing, and others. You would repeat this for every category.
So how can you leverage this in your business?
Be sure that you talk to each of the people on your list. Make sure they know who you are and what services you provide, while you're finding out what they specialize in. For example, not all chiropractors may be trained in the Webster Technique to help turn a breech baby, you'd want to be able to pick the one on your list who could do that for your client with a breech baby. Every time you get a new name for potential inclusion, either because a client recommends them or a new person is in town, be sure to make a connection with them.

If you have a birth network, be sure that you can invite your resources to relevant happenings. This can be a great place to find people who make speakers for your next event or baby fair.
You stand at the ready with helpful suggestions to your clients when they are in need. Your list is better than a mere listing because you've vetted everyone and perhaps have had clients who have used them before. This type of recommendation is even better than online reviews, which may or may not always be real people.
It's also important to realize that a list like this is a great way to help you look at different categories and perhaps even stretch outside of your comfort zone. Maybe a client introduces you to something new that they read about or you meet someone in a networking event. It's a great way to think about other professionals who might have something to offer your client.

You can even consider doing a spotlight of the people that you meet here in your social media or newsletter as a way to shed light on a topic they are passionate about that may be of interest to your clients.
How you actually manage the list is also important. Is it a literal phone book? Do you have a paper copy that you update every so often? Do you do an electronic version? A website version? There are a lot of possibilities, but keep in mind you'll want to account for frequent updates and ease of sharing.

Join us the 100% Doula Group to discuss how we move it around and keep it updated!