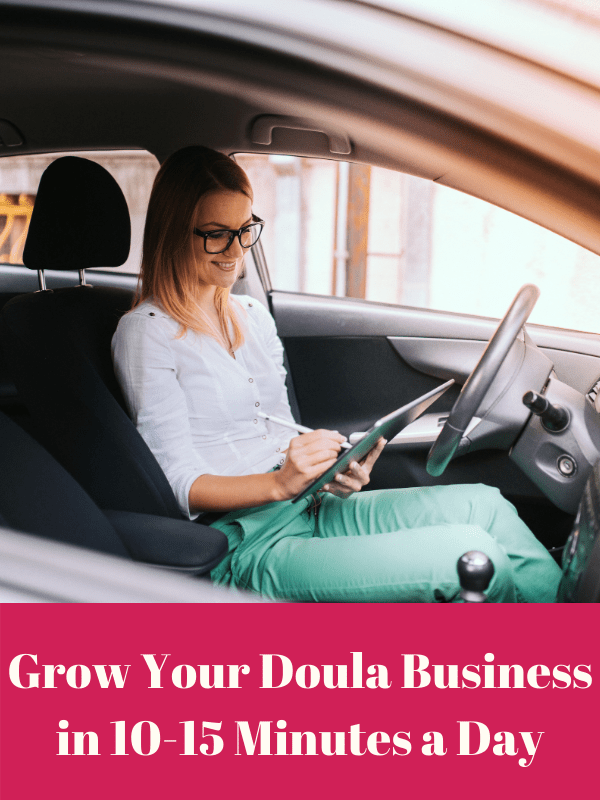 One of the most frequently asked questions I get is whether or not you can find enough clients to make it as a doula. I think people are surprised when I respond with something like this: If you're willing to put in the time and effort to get them.
You have to work towards building your doula business.
The good news is that this doesn't have to be complicated or even crazy involved. If you can put in about an hour a week, even broken into tiny segments, you can build your doula business.
Here are some strategies that have worked at various points in my life, because let's face it, my life is different now with teens than it was with toddlers:
Scenario One: You have an hour once a week.
This is accomplished when you have someone to watch the kids or maybe it's one night a week when you've reserved time to do interviews and prenatal and postpartum visits. You simply keep a running log of things that you can do in this one hour. Do you need to do some social media scheduling? Perhaps you need to reach out to a new childbirth educator and introduce yourself. Maybe you need to finish up designing a new business card or work on a presentation you're giving at the local library soon.
Scenario Two: You have 10-15 minutes several times a week.
I like to think of this as running my business from the carpool line, but no matter why you have a few minutes, it's always good to jump in. Rather than power through a ton of tasks at once, you'll break it down into bite-sized tasks. An example might be that you schedule social media for a week on Monday in carpool line. On Thursday you have another 15 minutes and you work on sending some networking emails. Obviously, you'll need to prioritize things by the due date and who is available.
No matter which scenario fits you best, you need to be organized to be ready. Keeping these items on a to-do list or even a Google doc will help you be productive in that hour, rather than waste time looking for what you should be focused on.
Here is a list of things you can do in 10-15 minutes on your doula business:
Answer posts on a Facebook group
Send out requests for testimonials that may have been lost
Update your MeetYourDoula.com profile and calendar
Write social media posts
Read a blog post
Log your miles for the last week
File your receipts for tax purposes
Reach out to your clients to check-in
Create graphics for social media
Schedule social media for multiple days
Watch an online tour of a local hospital or birth center
Email a couple of people about hosting a conversation about doulas at local places of birth
Find people to follow on social media
Visit local business's social media to learn more about them
Email the library or community center about doing a presentation on tips for labor
Order supplies you may be running low on for your business
Design a logo
Go live and discuss something on your mind or an item from your birth bag
Design a business card
Cull your to-do list
Clean out and restock your birth bag
Respond to emails
Reach out to your back-up doula just to check in and say hi
Brain dump ideas for your business onto a Google doc
Google yourself 
Conduct market research
Nap (Yes, this is business-related.)
Fill in or refresh your social media profiles (not feeds)
Write down or seek out why your clients love you
Update a page of your website, make sure everything is still relevant and working
Set some short-term and long-term goals
Clean up your calendar
Do an Instagram Take Over with another local business
Check your bio for any needed updates
Write a blog post
Download and review an app your client told you about
Delegate something from your list you're avoiding
Jump in the community and tell us what you're going to commit to doing next!