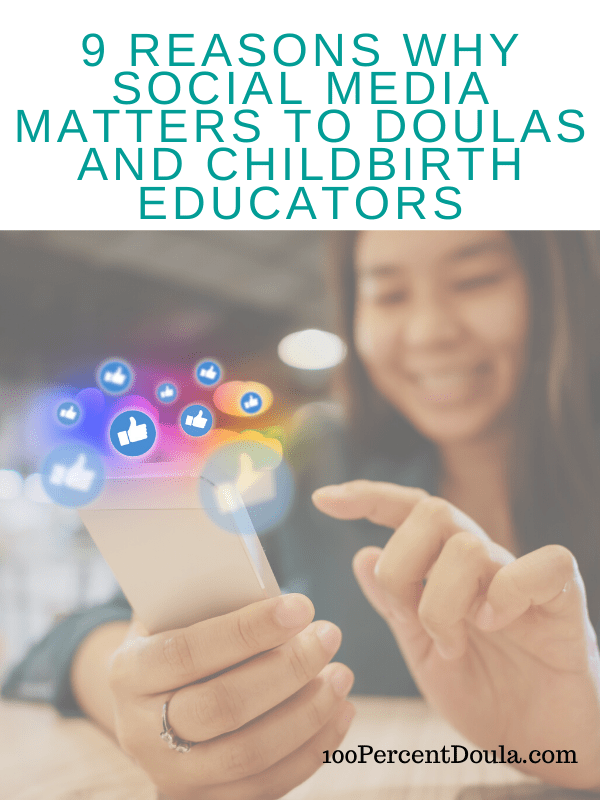 You might be tempted to blow off social media as just a gimmick or something that you don't need to fill your available spots or classes. Maybe you think it's just for ____ people. (Whatever that is…)
The truth of the matter is that you'd be wrong. Social media has a place for everyone. That doesn't mean that we all do social media the same way or at the same level, but there is a comfortable level for everyone. And here are nine reasons why you should consider social media vital to your doula or childbirth business:
Awareness: Awareness can mean a lot of different things, and this is one of the places where you'll need to personalize it for your area. Are you new to the area that has other doulas? You'll need to talk specifically about your business and what you offer. If you're in an area where there are relatively few doulas, you'll need to create awareness of what a doula is and how they can help, building awareness of the profession, before you can sell someone on the idea that they need to hire you. Once they know about you or what you do, you'll use social media to stay top of mind. The more times they see that you post, the more they feel like they know you and that familiarity can only help you.

Be Real: Many places talk about authenticity, and that's exactly what you'll need to do. You will have to show them that you're a real live person who happens to be a birth professional. This can also be showing them some of what you do – think of the tour of your birth bag, a discussion of your favorite massage lotions, or ways to navigate a particular problem many of your ideal clients face.

Encourage Engagement: Being engaging on social media may feel strange at first. Are you just talking to yourself? Maybe – maybe not. Ask questions and solicit opinions. Back to that example of the favorite lotions, after talking about what you like and why – end the post asking people to share their thoughts on lotions in the comments. Having a conversation about anything will always make it easier to have a conversation about your business by increasing the feeling of a relationship.

Get Ideas About What Your Client Wants: Being able to follow people who are your ideal clients will also give you the opportunity to listen to them. This will tell you what problems they are having so that you can potentially offer them solutions. This is very valuable information.

Communicate Authority: This seems pretty straight forward – you position yourself as the expert. This is partially true. You can write blog posts, tweet, or do posts that share your knowledge. These are able to be forwarded and shared by others. An added benefit of having people come to your website or sharing on social media is that the search engines will see the traffic and that helps you establish your authority in that way as well.

Provide Support: You can, without being preachy, convey that you are an expert on the topic at hand. As an example, you might answer questions someone posts in public on a Facebook group or in a thread of someone you're following. You just have to be careful not to overstep your bounds or to come off as salesy. I always recommend that you give an answer like this: "As a doula, I use x, y, and z to solve that problem." This helps supports people in general.

Targeted Advertising: Social media advertising, say trying to encourage people to attend your classes, a baby fair, or other event or service that you offer, you can target people who you know are your ideal clients based on where they live, age, and interests. This helps you save revenue by only showing your ad to those clients who are most likely to hire you.

Advertise Within Your Budget: The good news is that social media advertising can be done for just a dollar a day or even less. This can help you use to target advertising to get the most bang for your buck, but it can also help you advertise in other ways, like working with other partners who have similar interests to combine your audiences in a way that is beneficial to you, them, and the clients. This is a quick and easy way to generate leads and find clients.

Helps You Connect with Those in Your Field: One of my favorite parts of social media is being connected with other doulas and childbirth educators. This can be a field where you may be the only one for miles. Being able to talk online via social media with others is a great way to build friendships, and to get new ideas for your business. It's inspiring and invigorating all at the same. There is nothing like being on a Twitter Chat and realize that you're talking to book authors, midwives, heads of organizations, and other inspiring people all from the comfort of your own home.

Even if all of these didn't inspire you to want to jump on the social bandwagon. Hopefully, one or two connected with you. Think of this as an incremental step that you can take. If you don't have much in terms of social media, I don't want you to do it all. Pick one and do that. Join us in the 100% Doula Community to talk about social media platforms and get advice on which might work best for you.
Still worried? We do offer a 365 Day Social Media Bank. This is great content for your to drop in your social media, add a few sentences and be done with it.