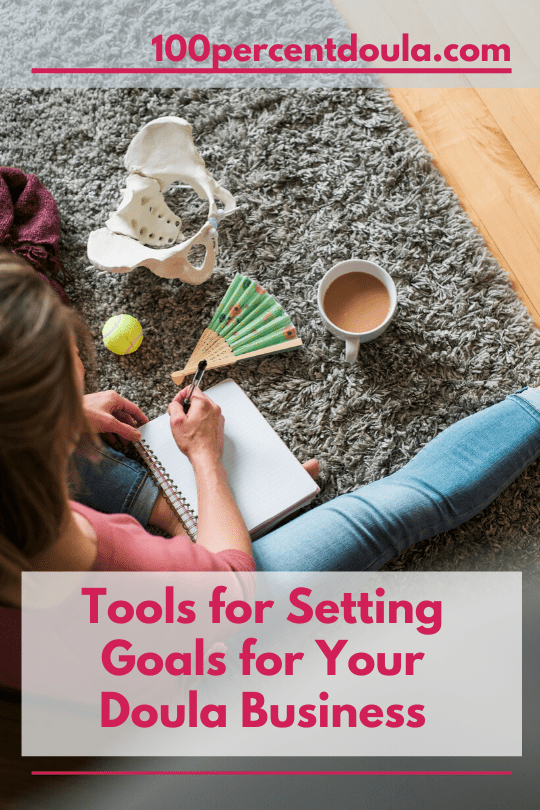 I don't think anyone would argue that setting goals is necessarily a bad thing, but when you're running a doula business, you might not think of it as goal setting. The more I talk to doulas about their business, the more I hear really, really loosely stated goals. 
A loosely stated goal might be something like:
More clients
More referrals 
The problem is that these aren't really goals. These are hopes. To be a goal it has to have some action behind it. Certainly, you can have loose plans around these types of goals. "I'm going to work to get more clients in the coming year." The good news is that there are a number of tools that can help you plan for your doula business.
S.M.A.R.T. Goals
One tool that you can use is the S.M.A.R.T. goals. This is an acronym that stands for:
Specific
Measurable
Attainable
Relevant
Time-based

George Doran is credited with this technique from a 1981 article entitled "There's a S.M.A.R.T. way to write management's goals and objectives." In this article, Doran argues that we have to move beyond the debate of terms and move to action. So the purpose of using this acronym is to help you figure out what you need to accomplish and to develop a relevant set of tasks or actions that will move you towards that goal.
In Doran's use, specific helps us limit the area. It's the difference between "more clients" and "more birth doula clients who birth at a specific facility". Measurable, while on the surface is obvious, just remember it's often forgotten or not well quantified. Decide ahead of time what success looks like. Remember management guru Peter Drucker says, "If you can't measure it, you can't improve it!" So take your specific type of client and add a number – say four in the next year.
Attainable, is this a reasonable goal? For example, why would you want to add a goal of 50 new clients if you couldn't reasonably care for them? Is that even possible? In Doran's version, this stood for assignable. For a small business, this might be a better way to look at it – who is going to be in charge of making this happen or tracking it?
Relevant or realistic are certainly important to consider. You might be wondering what would a non-relevant goal be doing in business planning? It's easy to get off base and not be seeing the bigger picture. Back to the 50 new clients, some doula business owners might think that that would be a good problem to have! The problem is that 1) you would work differently to attract four as opposed to 50 and 2) 50 clients would drastically change your business model, not grow your business as it is. That is a completely different thing.
Time-based is one many of us struggle with in both our business and personal lives. If you tend to have a shorter attention span, this one can be really difficult. (I'll give you a hint in the discussion of the tasks.) Think about a realistic timeline for your goals when choosing what it will look like.
Tasks in Planning
The real sweet spot for S.M.A.R.T. goals is the task. The task is where the action is, the tasks are simply guided by the goals as they move the project forward. Each task is designed to help you reach the overarching goal. In fact, many people might confuse tasks as actual goals. Make a Facebook ad is a subtask of get 4 new clients, not an actual goal. 
For those who struggle with staying on track, these smaller tasks are often helpful because the attention needed is much shorter in time. This can often help you feel more productive and help you continue to move forward. Think checklists! 
Backward Planning
Another tool that can be used in conjunction with S.M.A.R.T. goals or alone, is called backward planning. I was introduced to this in graduate school. You simply figure out when your goal or project deadline is and write it down. Then create a list of tasks that are required to do it and make a note of how long it will take to complete each task and in what order. From there you will build your timeline.
If your goal were to be to have established a new meet the doula public meeting, you would start with the date of your first meeting, let's say June 1st. Then figure out what all the tasks are and what order they would go in. An abbreviated version might look like this:
Write the content (2 weeks)
Find a location (1 month)
Advertise the meeting (2 months)
This means you'd need to start at least three and a half months before June 1st to have enough time to do everything. Though you can obviously start earlier. It's also understandable that some items might have multiple subtasks. For example, Advertise the meeting might have advertise online, make ad copy, post it at the venue, reach out to local yoga studies, etc..
There are many ways to set your goals, and these are just a few. If these don't seem to work for you as written, feel free to work them into a solution for you and your doula business. 
Come chat with us about goals and planning in the 100% Doula Business Community.
Join us in Planning your 2020 for just $10!