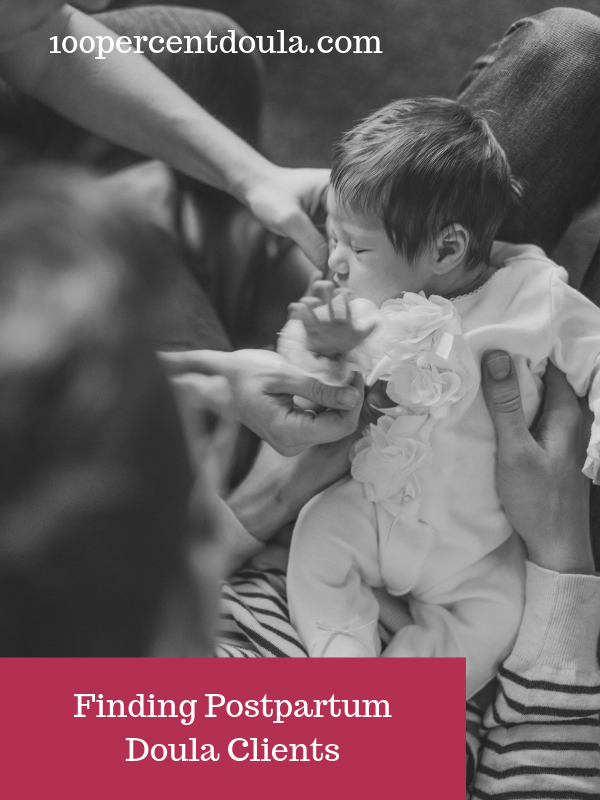 The postpartum doula often is left out or added as an afterthought when it comes to looking for clients, so we're going to focus on how to find clients as a postpartum doula here. Postpartum doulas have a different set needs when it comes to finding clients and while their client base is similar, and frequently overlapping, to the birth doula, different strategies may come into play. So here are some things to consider when looking for postpartum clients:
Postpartum doula clients don't necessarily have to hire months in advance. Sometimes the clients for a postpartum doula don't really figure out that they need help until after the baby is born. This means that it may be slightly more common for there to be a last minute client. How you market to a pregnant person may be slightly different than you would market to a newly postpartum person.
You might be advertising to the entire family. While many of the birth doulas are contacted by the pregnant person initially, the postpartum doula might have a different set of people considering their services. For example, a grandparent who doesn't live nearby the expectant family might be trying to find a postpartum doula to help fill the role that they may have taken had they been physically closer.
Use thoughtful keywords. You want to think as your potential clients might think. They may or may not have ever heard of a postpartum doula. So what words would they associate with your work? Night nurse. Baby nurse. Nanny. While a postpartum doula is certainly not any of these things. So in your copy of what you do, talk about how these words might have previously been associated with your work, but here's how and why you're different.
Look for local networks of birth professionals. In my experience, many of these seem to be heavy on birth doulas, but that means when the network gets calls for postpartum doulas, there are fewer competitors for those eyeballs. You can also offer to lead a meeting about a topic that is within your scope and help educate the other members about what a postpartum doula is and how they operate.
Community education is helpful. This means going out into the community to talk about postpartum doulas or topics that are around the issue of postpartum. You are the expert. Show your community. Be that at the library, a bookstore, a community group. Develop 2-3 talks that you can give in 15 minutes to these groups and offer to come in for free. Handout your business cards or rack cards liberally while you're there.
Professional education is also important. Don't skip over your doctors, nurses, midwives, and other professionals. They may also have groups that are looking for people to talk to them. Consider doing something like a grand rounds for the medical school, if you have one near by. You might also look at going to speak to nurses in between shift changes. Think about quick topics that might help them care for patients. Examples might be something surrounding breastfeeding, like hand expression, identifying a good latch, etc.
Think outside the new mom's groups. Yes, these groups have a ton of people that might be great matches, but it will only get you so far. Consider going to groups that are specialized, for example, consider going to a local twins group to speak. A higher percentage of these parents might be your target demographic. Another group would be the parents of preschoolers groups. While they already have at least one child, they are also statistically likely to be having another baby in the near future.
Pick at least one of these ideas to try this month. It's a great way to spark new interest in your business. Some are more easily implemented than others, so choose one that fits into your current schedule.