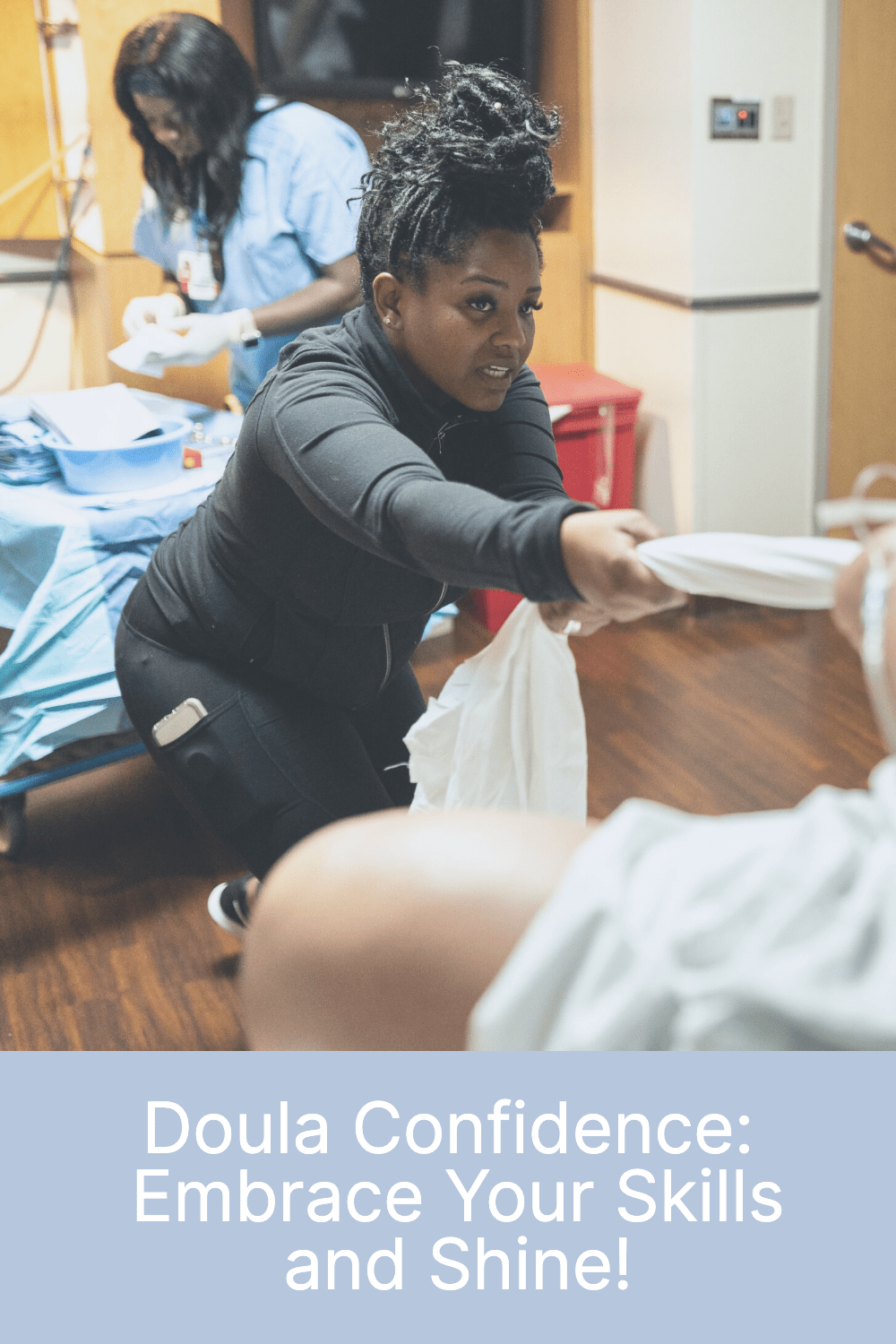 Let's focus on a vital aspect of our profession – doula confidence. Confidence is essential for any successful doula, whether it's birth or postpartum work, and it's something we can continually work on to strengthen and deepen. Let's dive in and explore some ideas for cultivating that unshakable belief in ourselves as skilled and compassionate doulas.
First and foremost, remember that YOU are enough. You've trained, you've studied, and you've practiced. As doula Anihhya Trumbo reminds us, your birth bag may be filled with useful tools and resources, but it didn't take the doula training – YOU did! Your knowledge, intuition, and passion are the real magic that helps birthing parents through their journeys. So, let's say it together: "I am enough!"
Experience plays a significant role in building doula confidence. Remember that confidence doesn't come from taking more classes, reading more books, or attending more workshops. Confidence comes from doing the work. So, don't shy away from opportunities to support birthing parents. Embrace each experience as a chance to grow, learn, and develop your confidence. Your clients hired YOU for a reason.
Building a strong network with other doulas is not only beneficial for personal growth and doula confidence but also for creating a supportive community where you can exchange valuable insights, experiences, and resources. Networking can be done both locally and online, giving you ample opportunities to connect with fellow doulas and birth professionals from all over the world. It also gives you a chance to ask questions and work through scenarios as you listen to their experiences.
Locally, consider attending doula meet-ups, workshops, and conferences in your area. These events provide a great opportunity to make new connections, share stories, and learn from others' experiences. By connecting with local doulas, you can build a support network, collaborate on projects, and even establish referral partnerships and find backup doulas. And if you don't find these in your local area – start one!
Online networking is just as valuable and offers a wider range of connections. There are numerous online forums, social media groups, and professional platforms where doulas can connect, learn, and grow together. One such group is the "100 Percent Doula: Grow Your Doula Business" Facebook Group. This group is specifically designed for doulas looking to build and expand their businesses. By joining this group, you'll have access to a wealth of knowledge and resources, as well as a supportive community of doulas who understand the unique challenges and joys of this profession.
In this group, you can ask questions, share your successes, and learn from others' experiences. It's an excellent platform for gaining insights into marketing, getting clients, and growing your doula business. Connecting with doulas from different backgrounds and locations also exposes you to a diverse range of perspectives and approaches to birth support, which can only enrich your own practice and boost your doula confidence.
Now, let's talk about self-worth. As doulas, we're often so focused on providing care and support to others that we forget to value ourselves. Don't undervalue your services or time! You have unique skills and talents that make you an invaluable resource for birthing parents. Remember to set boundaries, advocate for yourself, and charge what you're worth.
To maintain and strengthen your doula confidence, it's important to practice self-care and reflection regularly. Take time for yourself to recharge, set realistic goals, and celebrate your achievements. Remember, your own well-being is crucial in ensuring you can continue providing the best support to birthing parents.
Another way to boost your doula confidence is by seeking feedback from the families you've supported. Positive testimonials and constructive feedback not only help you understand your strengths but also identify areas for improvement. Use these insights to enhance your skills and grow as a doula.
Positive affirmations are also a way to help you build and maintain your confidence. Remind yourself of your accomplishments, your strengths, and your unwavering commitment to supporting birthing parents. Doing so can help you reinforce your confidence and empower you to face any challenges that may come your way. Remember, as doulas, we don't need to know everything, we need to be present for our families.
Finally, always keeping a sense of humor is a must, and don't take yourself too seriously. Birth can be an unpredictable, emotional rollercoaster, and being able to laugh and find joy in the journey is key. Remember that your energy and attitude can have a profound impact on the families you support.
Building doula confidence is an ongoing process. It involves remembering your worth, gaining experience, networking with fellow doulas, and finding joy in the journey. So, let's go out there and support those birthing parents with our heads held high, hearts open, and smiles on our faces. You've got this, doulas!