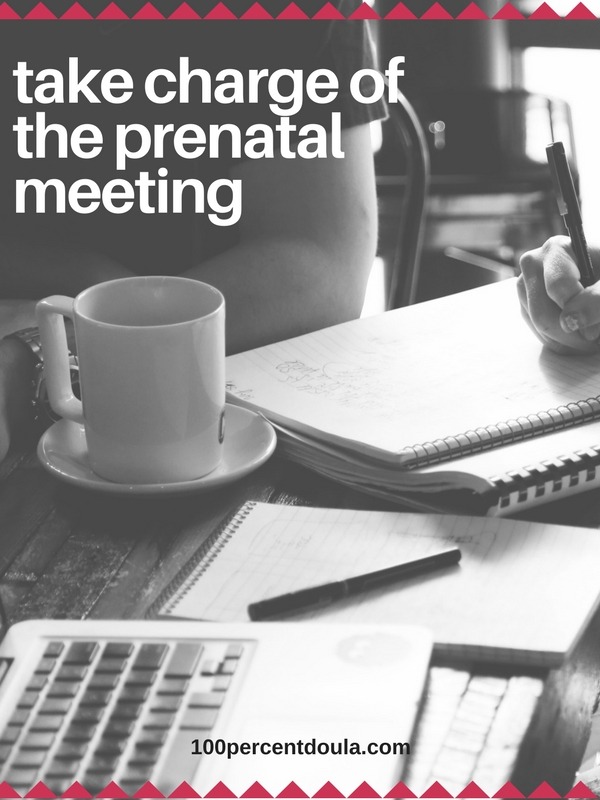 Have you ever been to a meeting that doesn't have a clear leader, goal or purpose? How about a meeting that goes on and on without an end in sight? These meetings are incredibly frustrating and leave the meeting attendees with the feeling that the meeting was a huge waste of time.  We don't want this to happen with our doula prenatal meeting and therefore the doula must take charge of the meeting.
Before the Meeting
Our clients usually have little idea about what a prenatal meeting is all about.  It is a nice practice to send a short email prior to the meeting to let them know what to expect. In the corporate world, this is similar to the practice of sending a meeting agenda.
Here is a sample of this email:
"Hello! I look forward to our first prenatal meeting on Thursday night. Expect us the meeting will last about 2 hours.  During this time, we will discuss your ideals for the birth and how I can best work with you and your partner to achieve these ideals.  Many clients aren't completely sure of their ideals and that is completely fine. Our discussion will likely help you clarify some of the unknowns."
If you have background material that you would like for them to review this can be sent at this time.  I often attach one of my handouts for them to review or discuss as a couple prior to the meeting.  (the Visitors Handout for example)
One thing that I am not in favor of is sending out a long questionnaire or intake form.  Filling out long forms that are never read is one of my personal pet peeves.  This is one reason that I don't choose to use intake forms with my clients. I would rather ask the questions that are on an intake form in during the prenatal so that I can dive into the answers in more detail if it makes sense.
I would also avoid sending out too much information. Bombarding them with links to Spinning Babies, Evidence Based Birth and Lamaze is sure to cause overload.  Keep your suggested reading material to a minimum and I believe you will increase the likelihood that your clients will actually read it.
During the Meeting
During the meeting, it is up to the doula to keep the discussion on track.  If you see the conversation going too far off topic, you should redirect the conversation back to the purpose of the meeting.
4 Things that the Meeting Shouldn't Be
A Mini Childbirth Class – If the clients are in clear need of a childbirth class, don't hesitate to let them know. While it is normal to do some educating during the prenatal, the purpose of the meeting isn't to replace a childbirth class
A Medical Assessment – It is outside the scope of a doula to provide medical advice. If you receive questions that should be answered by their care provider make sure that you recommend that they talk to their care provider.  This seems like an easy solution, but sometimes if can be a difficult line to walk.  We have so much knowledge as doulas and knowing when to refer to the care provider is an important skill
An Unstructured Social Session – One purpose of the prenatal appointment is to develop a working relationship with our clients. Getting to know each other is very important, however it shouldn't take over the meeting.  If you find the discussion veering off topic you should be the one to bring the discuss back to the purpose. Don't let the conversation turn into one about dogs, restaurants or vacation spots!
A Question and Answer Session – It is great to have a list of questions for the prenatal meeting but try to avoid it being a pure Q&A session. When you cover a topic that needs further discussion, take the time to work through the topic.  If the client gives a quick one-word answer about something that clearly you believe needs further exploration, it's your job to try and bring the discussion forth.
Finally, don't let the meeting go over the estimated time. You might love talking about birth for hours and hours, but likely your clients will need a break. I recommend setting an alarm on your phone that will go off 15 minutes prior to the expected end of the meeting.  Once your alarm goes off, let the clients know that it is time to wrap up the meeting.  This is a great time to assign any homework, review any to-do items (like following up with questions to the care provider etc) and plan the next prenatal meeting or discuss the plan for when you will see them next and how to communicate with you in the meantime.
Taking charge of your prenatal meeting will leave you and your clients feeling like the meeting was a success. They will appreciate your professionalism and your leadership through the process.
Check out the Master the Doula Prenatal online course for more information about running a successful doula prenatal meeting.