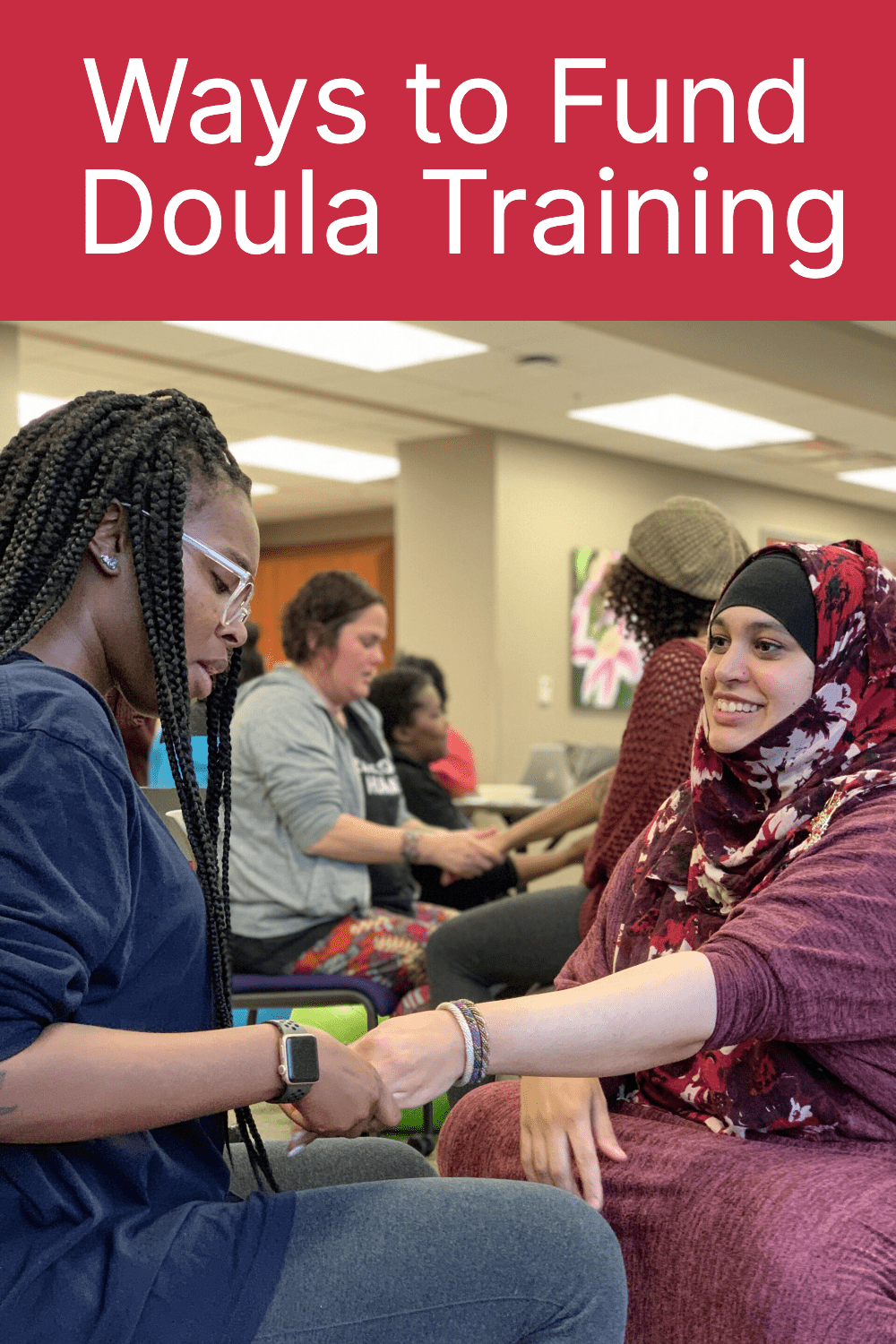 If you are thinking about taking a doula training but are holding back due to money, consider that you may not be thinking of all the ways that you can potentially pay for it. There are various ways that you can fund your doula training. These are ways that can also be used to fund your doula work, once you are trained, for clients in need.
Apply for scholarships through the training organization. Many organizations offer a variety of scholarships for their doula training. Some are for specific populations, like BIPOC or LGBTQ individuals, while others have no such restrictions. These may be open only at certain times of the year so plan ahead or they may have limited seats available. The scholarships may be full or partial. Be sure to check the details when applying.
Some organizations don't offer scholarships but individual trainers do. They may offer so many per class or a year. It really varies widely from instructor to instructor. The process to apply can also vary. The benefit here is that these may run all year compared to organizations that have a more limited opening in their timeframe. These may also be full or partial scholarships.
Have your client pay for it. Believe it or not, this happens more often than you would believe. Someone wants to doula and there is no one available so they find someone they like, and rather than pay them in cash they pay them by sponsoring their training. The other way to have your client pay for it is to get paid to do the work and use that money to pay for the training yourself.
Get a grant. There are nonprofit organizations that are writing grants to cover doula training all the time. This may be one big doula training, that the grant funds and people apply to, or it could be one set of monies that the foundation uses to send people to trainings. Meaning they are not all in the same training or perhaps even organization. There may be specific requirements or obligations to the organization once you were completed with your training. It may be a certain amount of time or a certain number of clients that you were required to serve within that organization in repayment for the training.
Payment plans. Many doula training offer payment plans you put a certain percentage down and pay the rest over a specific amount of time. Most of these require that the funds be paid prior to the training this may be one that you need to plan ahead, but it gets you working on your path and allows you to make monthly payments towards your training.
Bartering may be an option. Do you have some skills that a doula trainer might use? Offer to swap. This might be a semi-unusual arrangement so make sure that you explain it in detail in your offer. There might be some back-and-forth about this, but this could be a win-win situation for both you and the doula trainer. As with all bartering, remember, it's only good to barter for things someone actually needs.
Gift certificates. Many doula trainers make gift certificates. So you can ask for gift certificates for your birthday or other gift-giving holidays to help reduce the cost of your training. Heck saved up over a couple of holidays and you might have your whole training paid for more quickly than you think.
Start a go fund me. Start an account and explain what you were trying to do and why you want to do it. Sent it to everyone you know and asked that they share it as well. These types of sites often have quick little trainings, where you can watch videos that show you how to maximize your donations, but I've had more than one person fund their training this way.
Find a benefactor. There are people out there who just love the idea of doulas and want there to be more doulas in the world. Make sure that you keep your ears open for people like this. I had somebody come through my training a few years ago, who had just mentioned while sitting at a church picnic that she really wanted to be a doula, one of the people sitting with her, heard her and asked her what was stopping her. When she said it was the money, this older person said, "I'll pay for it!" And the rest is history.
Start a doula-specific savings account. If none of the others are right for you, consider starting a doula Training specific account. Find out how much you will need and begin saving. You might consider putting a certain percentage of your paycheck towards it or you might do specific extra work that that money goes towards your doula training.
Here are several different ways that hopefully get your brain thinking and your creative juices flowing. I hope to see you in a doula training soon.