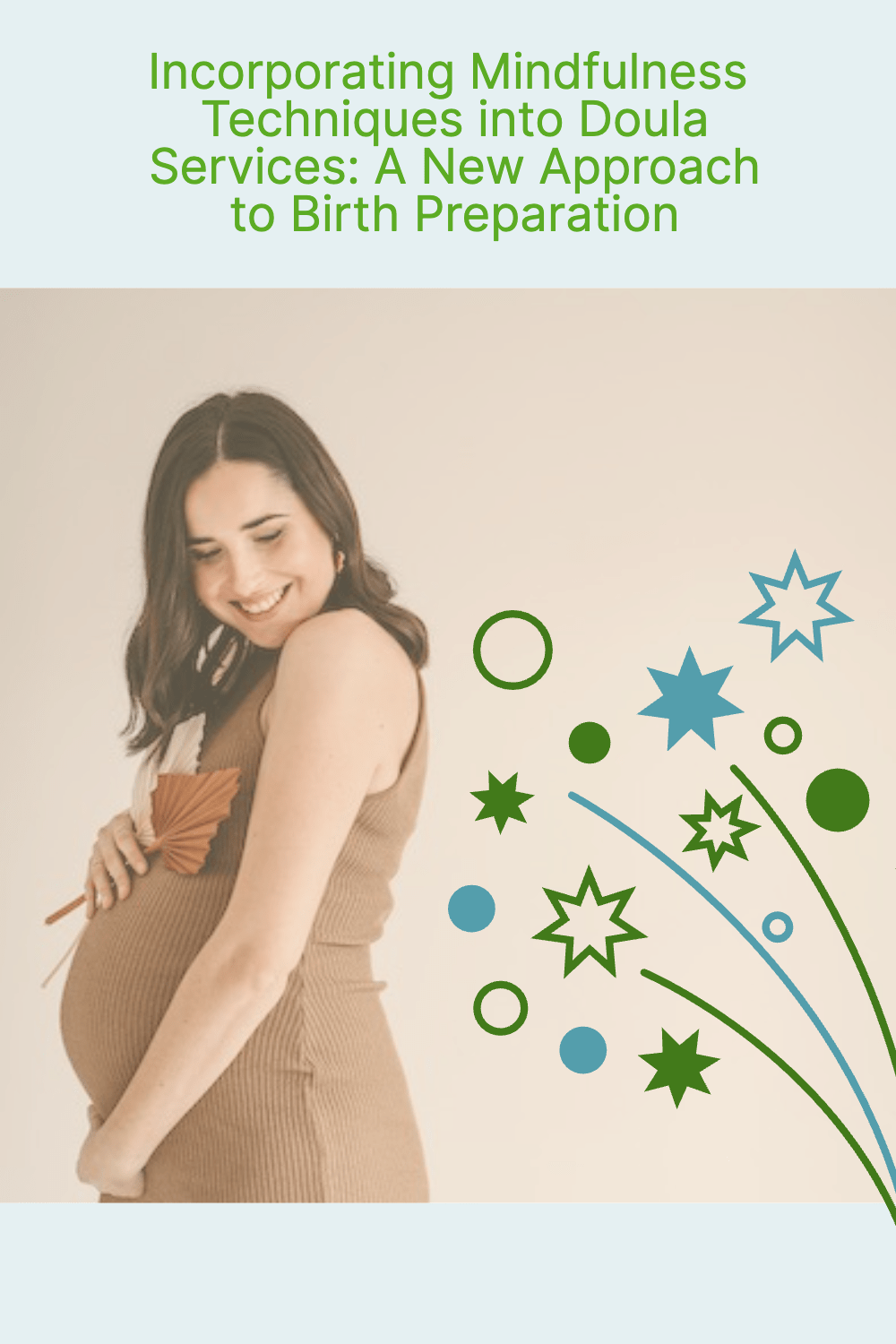 I want to talk about something profoundly transformative yet often overlooked in our field: the art of mindfulness and its application in birth preparation.
Understanding Mindfulness and Its Significance in Birth
To start, let's break down what mindfulness is. Mindfulness refers to the practice of being fully present and engaged in the moment, consciously aware of our thoughts, emotions, and physical sensations without judgment. It involves cultivating a sense of calm, balance, and acceptance, which are crucial attributes when it comes to birth.
Birth is a sacred and intimate experience filled with unpredictability. Emotions often run high, and situations can quickly shift. This is where mindfulness shines. It offers tools for navigating these changes and emotions, equipping both doulas and birthing people with the resilience and presence needed for this transformative journey.
The Benefits of Mindfulness for Doulas and Birthing People
Now, let's explore how mindfulness supports the emotional and physical well-being of both doulas and those giving birth. For doulas, it can help reduce stress, prevent burnout, and enhance empathy – key for forming deep connections with our clients.
For birthing people, mindfulness can mitigate fear and anxiety, assist in managing discomfort, and foster a sense of empowerment and control. Studies have shown that mindfulness can even positively impact the progression of labor and the birthing person's satisfaction with the birth experience.
Incorporating Mindfulness into Doula Practice
So, how can we, as doulas, integrate mindfulness into our practice? Here are some suggestions:
Practice mindfulness ourselves: To guide others into mindfulness, we must first walk the path ourselves. This involves regular mindful practices such as meditation, yoga, or simply spending quiet moments in nature.
Introduce mindfulness to clients: This could be through guided meditations, mindful breathing exercises, or encouraging clients to practice mindful moments throughout their day.
Create a mindful birthing environment: Consider aspects such as lighting, noise levels, and the use of calming scents or music. These elements can help foster a more mindful, relaxed atmosphere.
Being fully present with your clients means actively listening, offering empathetic responses, and being attuned to their needs in the moment.
Mindfulness in Action: Real-life Applications
As a doula trainer, I have seen doulas use mindfulness techniques with significant effect. One doula told me about a birthing person who was incredibly anxious about their upcoming birth. They introduced mindfulness techniques like focused breathing and body scanning to them. The person reported a significant reduction in their anxiety levels and felt more prepared and calm during birth. I know I've certainly seen this type of thing in my doula practice time and time again, but as a newer doula, it completely amazed me the first few times.
Mindfulness Tools and Technologies
Today, we have various tools and technologies that can aid our mindfulness practice. Apps like Headspace or Calm offer guided meditations, some specifically designed for birth. Biofeedback devices can help clients become more aware of their physiological responses and learn to control them more effectively.
Childbirth Classes and Mindfulness
Childbirth classes that incorporate mindfulness offer a unique and empowering approach to birth preparation. These classes integrate traditional birth education – understanding the birth process, knowing available options, and practicing comfort measures – with the practice of mindfulness. This means learning techniques such as focused breathing, body scanning, and present-moment awareness, all of which can be instrumental in managing the physical and emotional challenges of birth. These classes aim not only to equip birthing people with knowledge about childbirth but also to cultivate a mindset that promotes calm, acceptance, and presence during the birth process. This blended approach empowers birthing people and their partners to navigate the birth journey with more confidence, resilience, and a heightened sense of connection to their bodies, their babies, and the birth experience as a whole.
What are you doing in your doula practice?
Incorporating mindfulness into our doula practice can greatly enrich the birth experience for both ourselves and the people we support. Not only does it bring a deeper level of calm and focus, but it also enhances our connection with our clients, fostering a more supportive and empowering birthing environment.
I would love to hear from you – what mindfulness techniques or technologies do you incorporate into your practice, and how have they impacted your experience and those of your clients? Share your thoughts, stories, and insights in the comments in our community. Or get ideas from other doulas! Let's continue this conversation and learn from each other in our collective journey towards better, more mindful birth support.
In its simplicity, mindfulness holds the power to transform our practice and the birth experiences we support. So, let's embrace it, explore it, and share it. Together, we can shape the future of birth support to be more mindful, empowering, and compassionate.