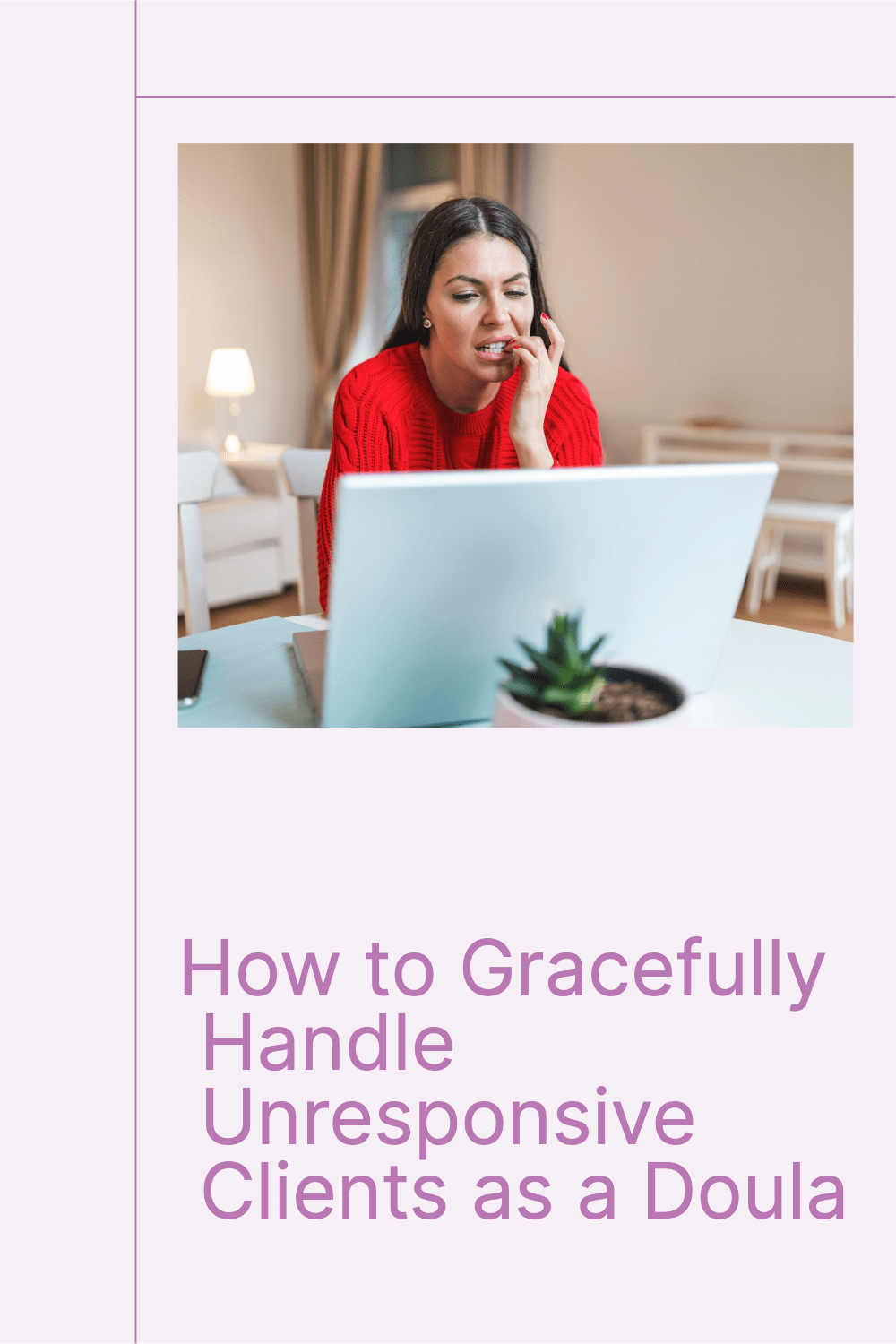 You're excited to start working with a client, and they seem equally happy to work with you. You send messages back and forth, and then… nothing. No response. As a doula, you help people through periods of uncertainty, but what do you do when one of your clients stops responding? As frustrating as it feels, take peace knowing you are not alone and that this common problem happens to every doula.
Why Do Clients Stop Responding?
If a client does not respond to your messages, it does not mean they dislike working with you. Before assuming that your doula client permanently ghosted you, recognize they may have:
Forgot to reply: Your client may be too busy with work or family to check their inbox regularly.
Missed your outreach: Did they miss your message in a long thread, accidentally delete it, get distracted or simply didn't respond promptly?
Not known how to respond: Depending on the message, your client might not have realized they needed to reply or couldn't figure out what to say or do next.
5 Things to Do When Clients Don't Respond
While there are no hard and fast rules when it comes to dealing with clients who don't respond to your communications, we've compiled some doula business tips to help make the process easier:
1. Take a Step Back
First, take a deep breath and don't assume the worst. Instead, focus on being present with yourself while knowing that you have fulfilled your doula obligations up until this point and will continue to do so as needed.
2. Release the Impulse to Chase
As a doula, you must read people and anticipate their needs. If your client doesn't want to talk with you, you don't need to force or nag them. Instead, offer helpful suggestions and let them know you remain available if they need more support.
3. Encourage Action
When facing an unresponsive client, follow up using their preferred communication method while keeping your message short and simple. Try including a call to action in your message, whether that looks like a:
Schedule link
Straightforward question
Simple "could you confirm"
4. Respect the Non-Response
If you've done your due diligence and followed up in good faith, you have no reason to bother your client until they reply. Many studies have shown that pressuring individuals into a reply decreases the likelihood they will reach out in the future. If your client wants to consult you about their birth or postpartum plans, they will reach out. As you wait, try shifting your focus to other clients and moving forward with your goals.
5. Set Yourself Up for Success Early
When you take on a new client, try discussing:
How often they can expect to hear from you
Their preferred method of contact
The steps you will take if you don't hear back
A desired level of communication works for both of you
By also clearly outlining expectations in your contract and onboarding materials, you can reduce the number of misunderstandings between both parties.
Receive Personalized Support From 100% DoulaWhether experienced or just starting out, running a doula business is a lot of work and we want to ensure you have the support you need to navigate challenges as they arise. We created the Doula Mastermind Membership to help you grow your business, get online training, and receive monthly mentorship calls so you can continue developing your skills. Sign up to start seeing results today!